Zoho mail is used for personal and normal business purposes to send emails. It is an IMAP based service that provides features like attachments, contacts, calendars, tasks, bookmarks, etc. Zoho mail application is secured with two-factor authentication.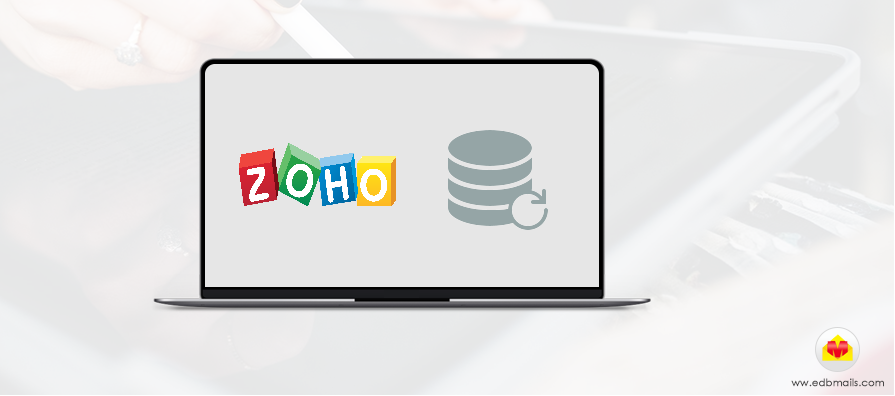 Although Zoho mail is secure, there may be a chances of data loss as it is an online service. Users need to frequently back up their emails to avoid critical and inconvenient situations. Let's look at some of the very basic reasons why backup for an online service is necessary.
To avoid hacking, malware, and virus attacks
To avoid accidental emails deletion.
To be able import and export data to and from any device.
To free up storage space in the online mailboxes
You can backup your Zoho mails data using EdbMails. Highlighted features of this tool are
Maintains folder hierarchy of Zoho mail folders during backup.
Provides 100% Safe and Secure Backup/Migration.
Automatically maps source and target mailboxes.
Supports all languages and even special characters migration.
Possible to backup selective items to the target location as it supports the filter option.
How to perform Zoho Mail data backup with EdbMails?
Step 1: Install Microsoft Outlook
You have to install Microsoft Outlook application on your computer since we are backing up the mailboxes to a PST (Personal Storage Table) file.
Create a profile in your Outlook
Step 2: Download and install the EdbMails application
Download and install the latest version of EdbMails application on your computer. Double click the EdbMails setup (EdbMailsSetup.exe) file to install and follow the instructions that appear to complete the installation as shown.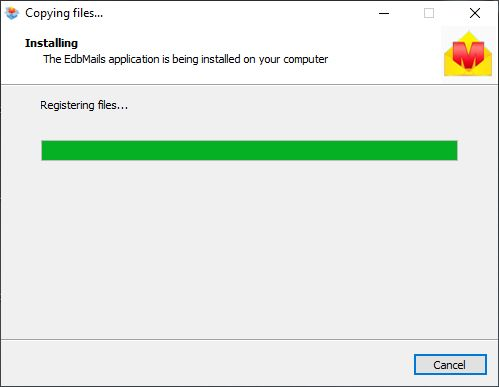 Step 3: Login to the application
To use this service, you have to login to the application with your registered login credentials or you can use a free trial version.
Step 4: Select 'IMAP Migration'
Choose 'IMAP Migration' from the drop-down to perform Zoho mail Backup. Then click on 'Let's Go!'.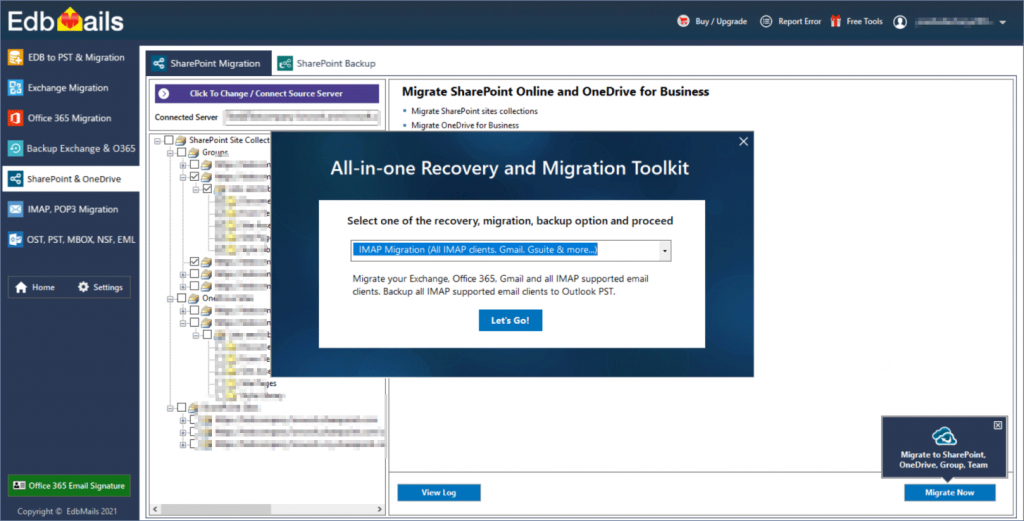 Step 5: Connect to the source IMAP server
You have to login to the source IMAP server. You can connect to a Single server or Multiple servers based on your requirement. After successful login, you will get the list of mailboxes.
Select the 'Single Server', check-mark 'Connect to IMAP', select the hostname as Zoho while backing up Zoho mailboxes. Enter the required credentials like your 'Email address' and 'Password' and click on 'Login'.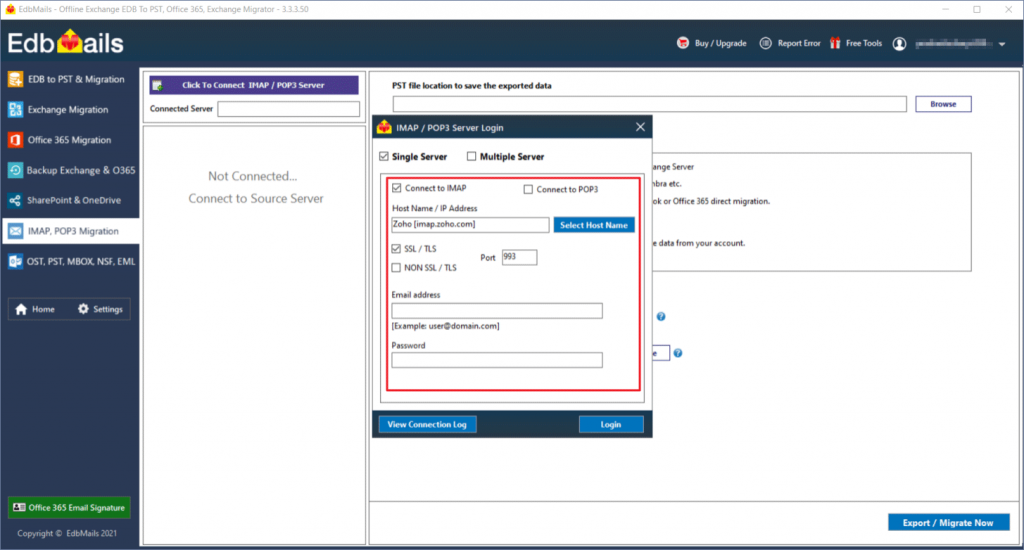 Step 6: Export to PST File
After completion of connection to the source server, you have to export selected data items to be exported to Outlook PST. Now choose the items that you wish to back up. Click 'Browse' to select the location where you would like to save the backup. Then click on the 'Export to Outlook PST' button.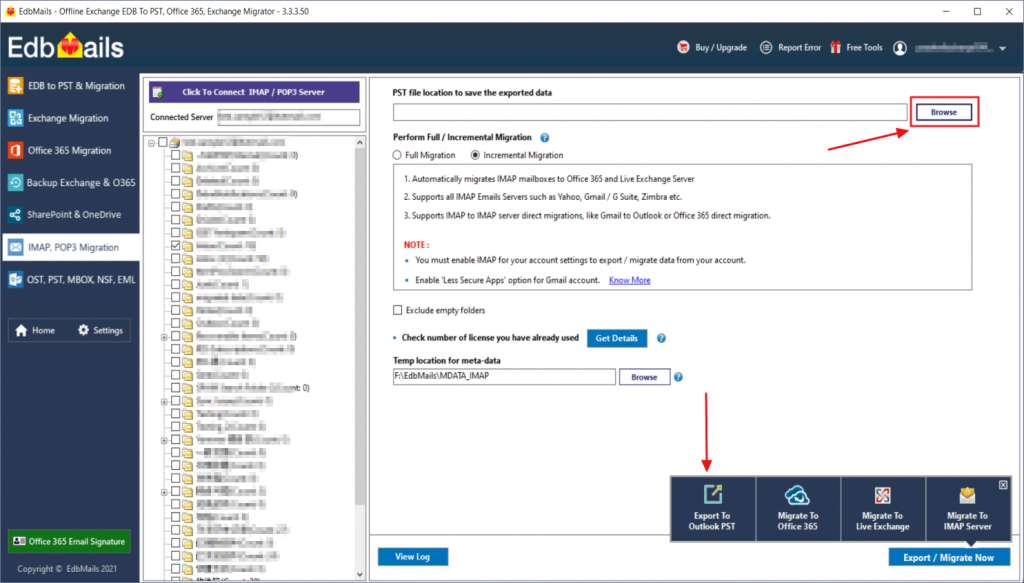 Step 7: Set action as 'Export'
You need to set the action as 'Export' then click on 'Continue' at the bottom.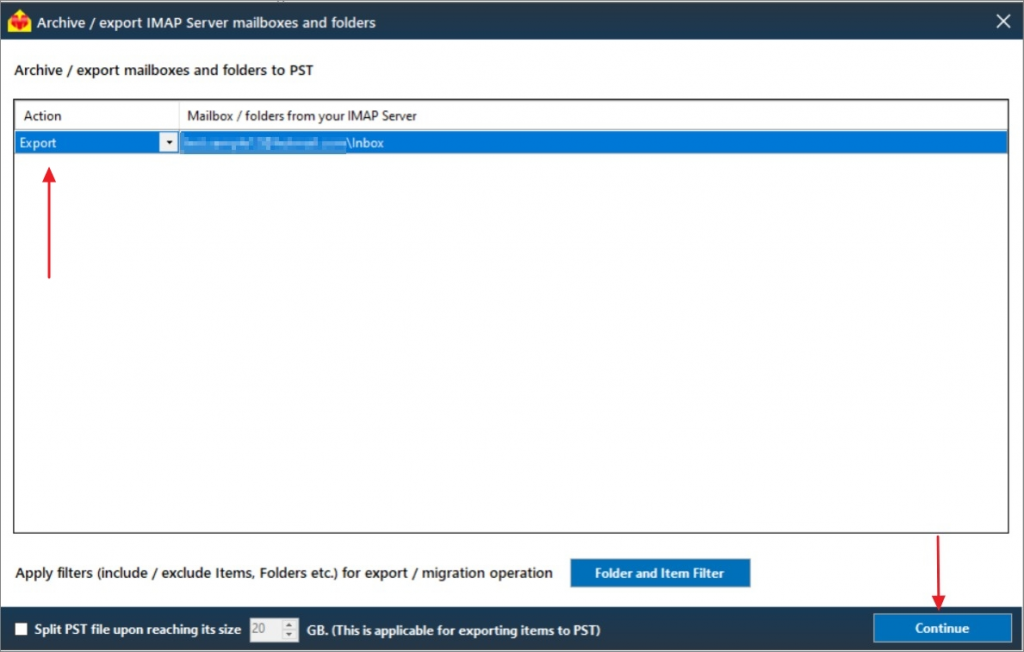 Step 8: Select the destination location to store the backup data
If you haven't selected the location to save the data previously, the application prompts you at this stage to select the location to store the backup data.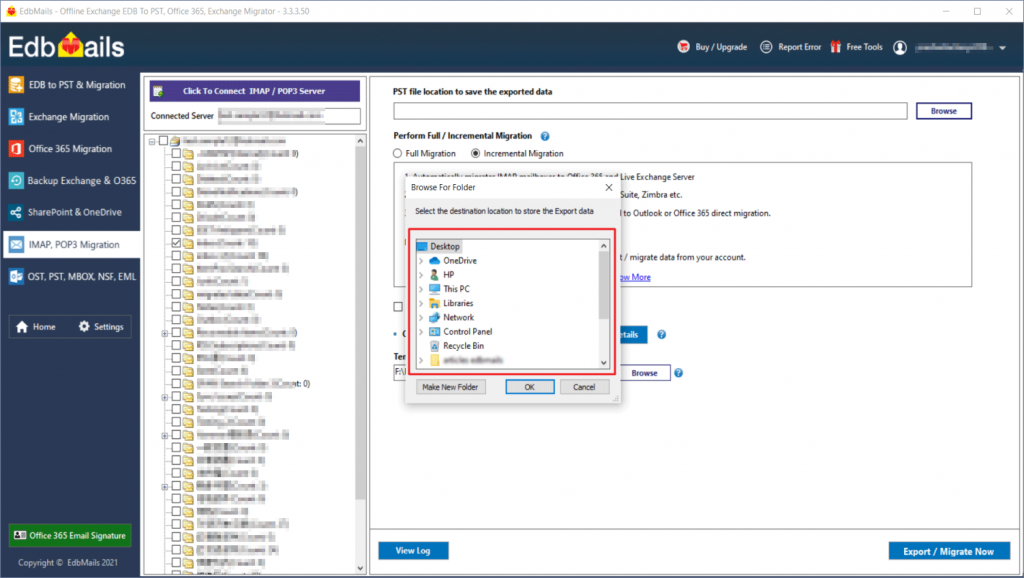 Step 9: Click on 'OK' for this message.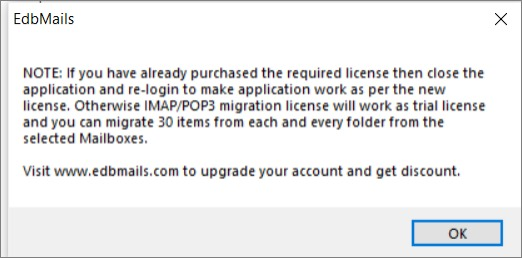 Step 10: Export operation
After completing all the above steps, you will get this wizard. Here you can see the total number of exported items. Also, you can check the detailed migration report by clicking the 'View Log' button.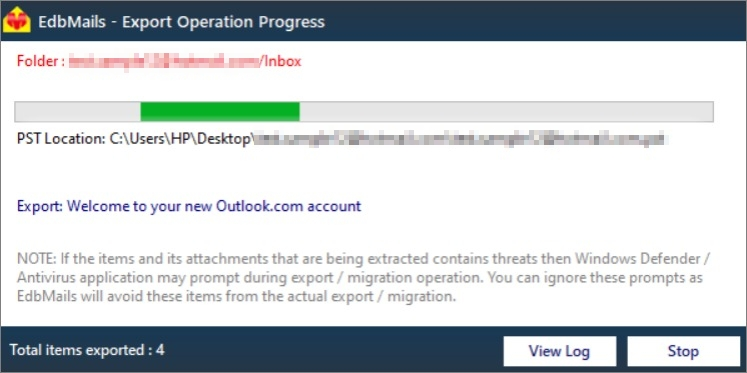 EdbMails IMAP backup and migration tool is one of the best tools to perform both backup and migration operations. To know more about this tool, please visit the following web pages.
For IMAP Email Backup (Zoho mail backup): https://www.edbmails.com/pages/imap-to-pst-steps.html
For IMAP Email Migration: https://www.edbmails.com/pages/imap-migration-tool.html