In the recent times, many users are moving their Hotmail mailboxes to Office 365 servers due to the extensive features available in Office 365 platform and its popularity. But many people are unaware on how to migrate Hotmail data to Office 365. To perform this, you have to choose an efficient and secure tool. One can also adopt manual methods of first exporting Hotmail data to PST and then migrating the PST data to Office 365. But these methods are usually cumbersome and it is difficult to maintain data integrity at every stage. Information like meta data and folder structure might be maintained in one stage, but can go wrong in the next stage. For users looking to migrate large amount of data, this can come as a nasty shock when they have bits and pieces of data strewn all over. Without a prior backup of the source data, this can spiral into one big disaster. And for exporting to PST, you need to have Microsoft Outlook installed on your PC.
In this article, we introduce you to a fast and secure tool to move your data from Hotmail to Office 365. EdbMails is an internationally recognized software that provides simple steps to perform the migration including the migration of meta-data. It is a one-one migration which directly maps the source and the target mailboxes without needing to convert to other file formats like PST or perform an intermediate migration. Let's see the steps to migrate your data.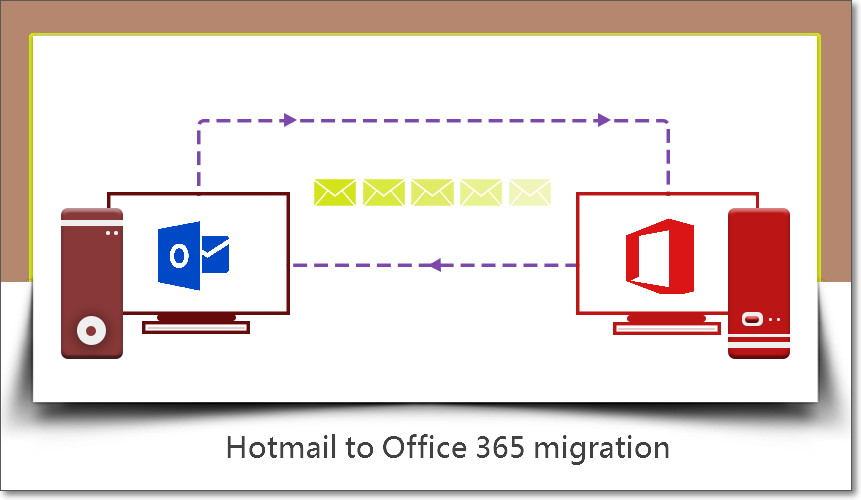 Step-by-step procedure to migrate data from Hotmail account to Office 365.
Step 1: Download and install the EdbMails application
Use the below link to download the application
Follow the on-screen instructions to install the EdbMails application.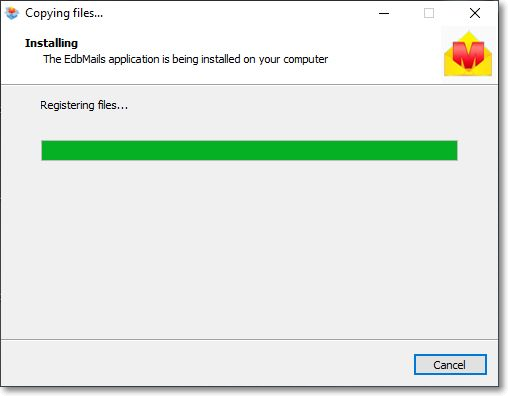 Step 2 : Login to the application
To access the services of the EdbMails application, enter the required credentials to login to the application or you can use the free trial version, which allows you to migrate 30 items from every folder.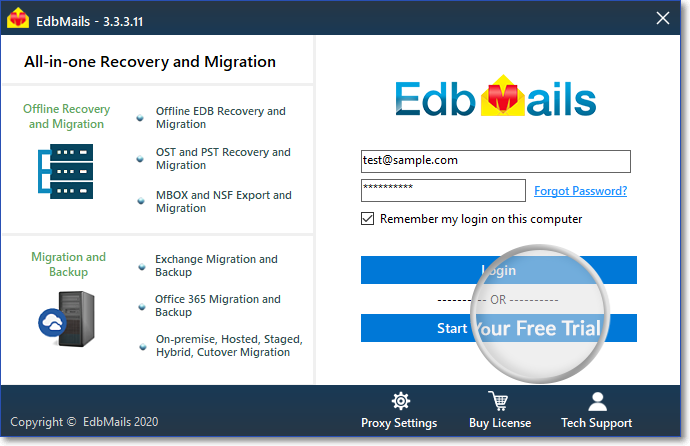 Step 3 : Select 'IMAP Migration' from the drop-down list and click 'Let's Go!'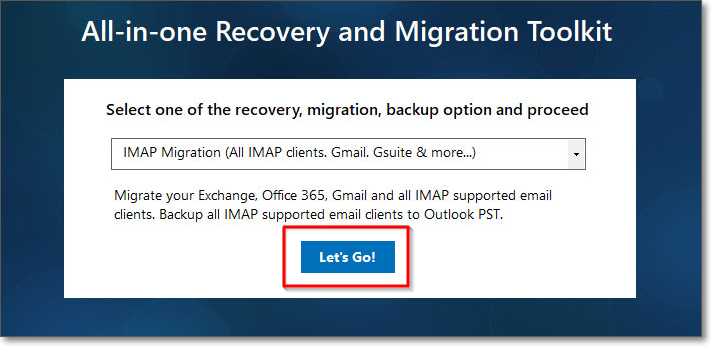 Step 4 : Connect to the source IMAP server
You can connect to a Single server or Multiple servers. Select one among those based on your requirements. Choose the hostname as Hotmail and enter the Hotmail account credentials, then click on 'Login' button. To know more about connection to a single server and multiple servers, please visit https://www.edbmails.com/pages/imap-login.html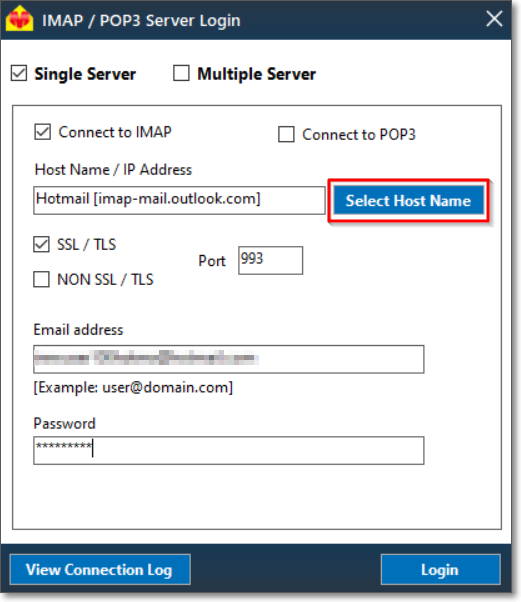 Step 5 : Select the Mailbox(es) for migration
Choose mailboxes that you wish to migrate to the target server from the left pane. Select the migration type (Full migration/Incremental migration), after that click on the 'Migrate to Office 365' button to continue.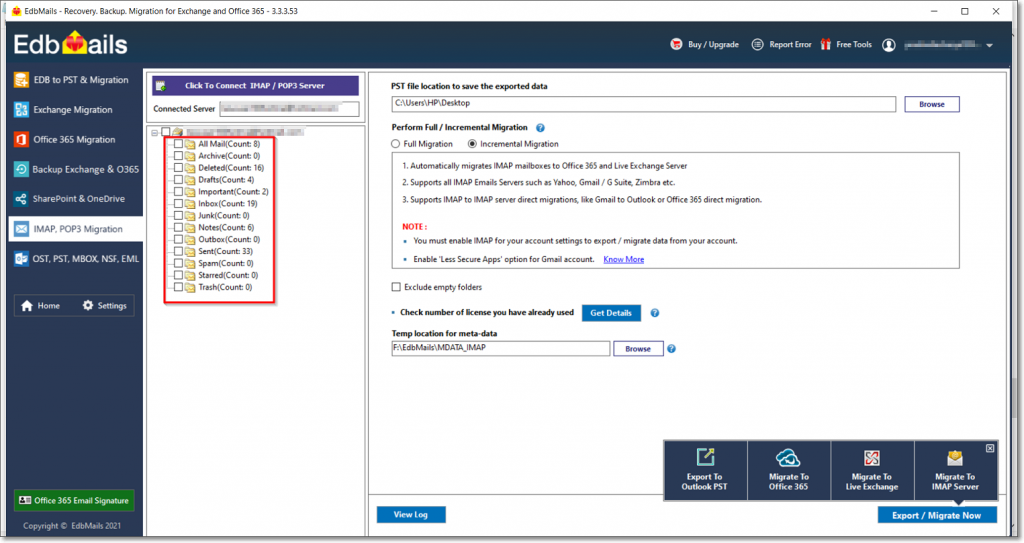 Step 6 : Connect to the destination Office 365 admin account
Select the 'Connection Option', 'Mailbox Type' and click on 'Next'.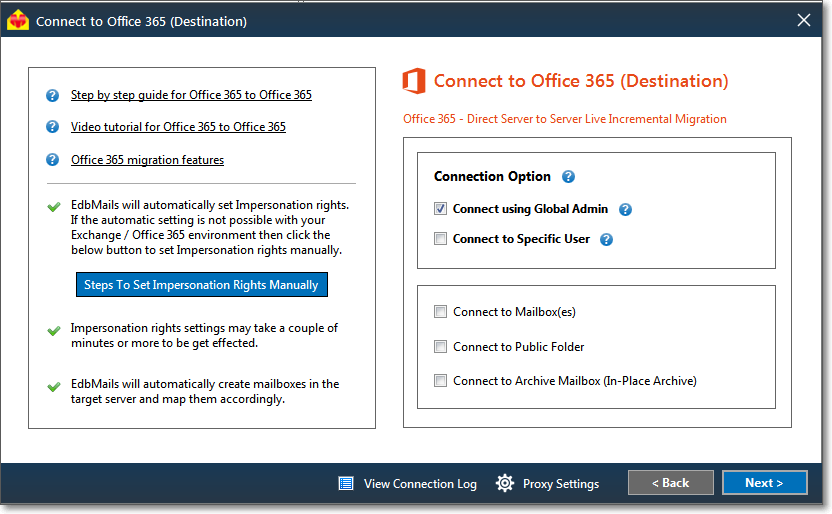 Step 7 : Login to your Office 365 account
To login to the destination Office 365 account, enter the appropriate credentials and click on 'Login'.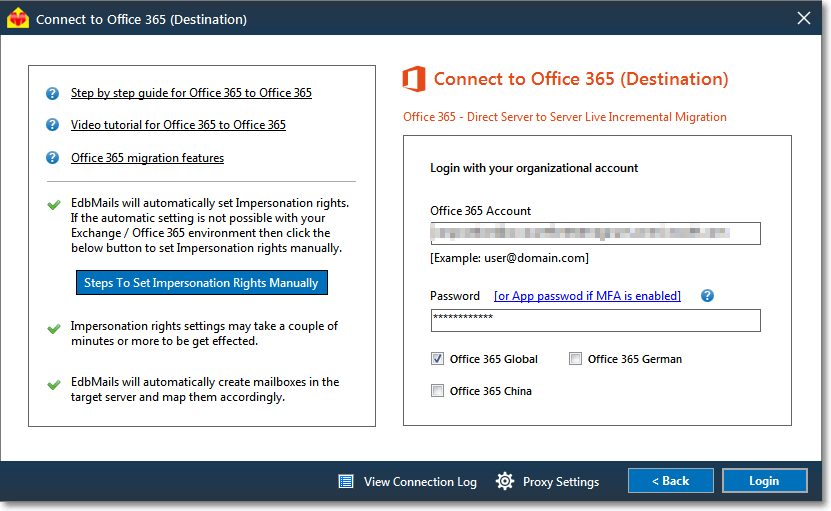 Step 8: Select one of the options to load the mailboxes
After the login is successful, you will get this window with 3 options. Here you can load mailboxes automatically, you can load using .CSV file or it is also possible to load mailboxes from a previously stored list.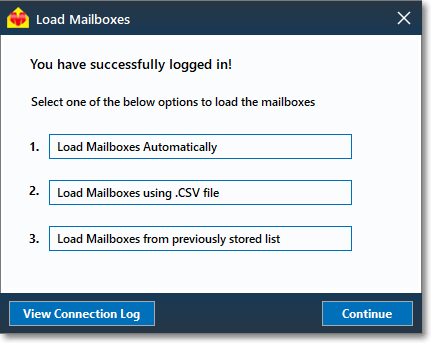 Step 9 : Verify all the mailboxes that are present in Office 365 account.
After the loading process, you will get a list of mailboxes. If there's any mailbox that is missing, you can load it using the .CSV file. Then click on the 'Continue' button.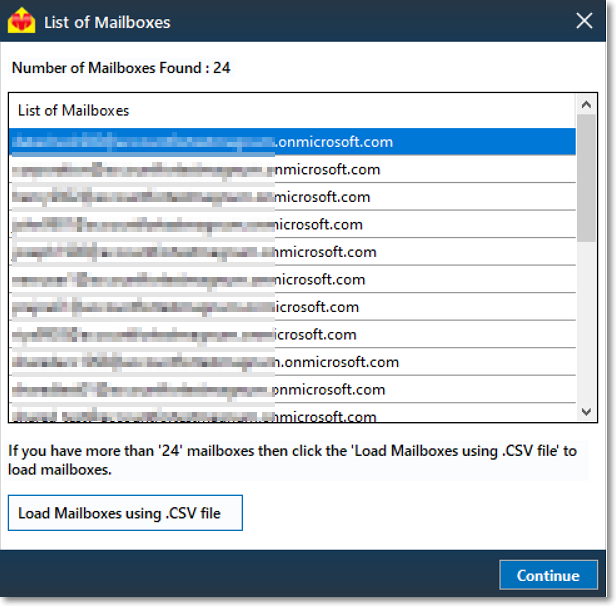 Step 10: Select one of the mailbox mapping method
To perform migration operations, you have to map the source server and target server mailboxes. Mapping mailboxes can be done in 3 different ways as mentioned below in the image.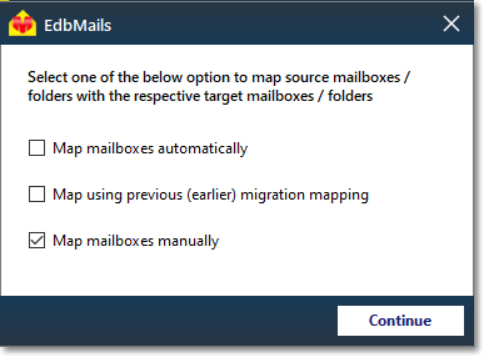 Step 11 : Set the Action as Migrate
If you have selected 'Map mailboxes automatically', then in this step you will be displayed with source and target mailboxes. Otherwise, you have to manually select the target mailbox here. You can also create mailboxes automatically in the target if it is not existing previously. Then set the action as 'Migrate' and click on the 'Continue' button to start the migration process.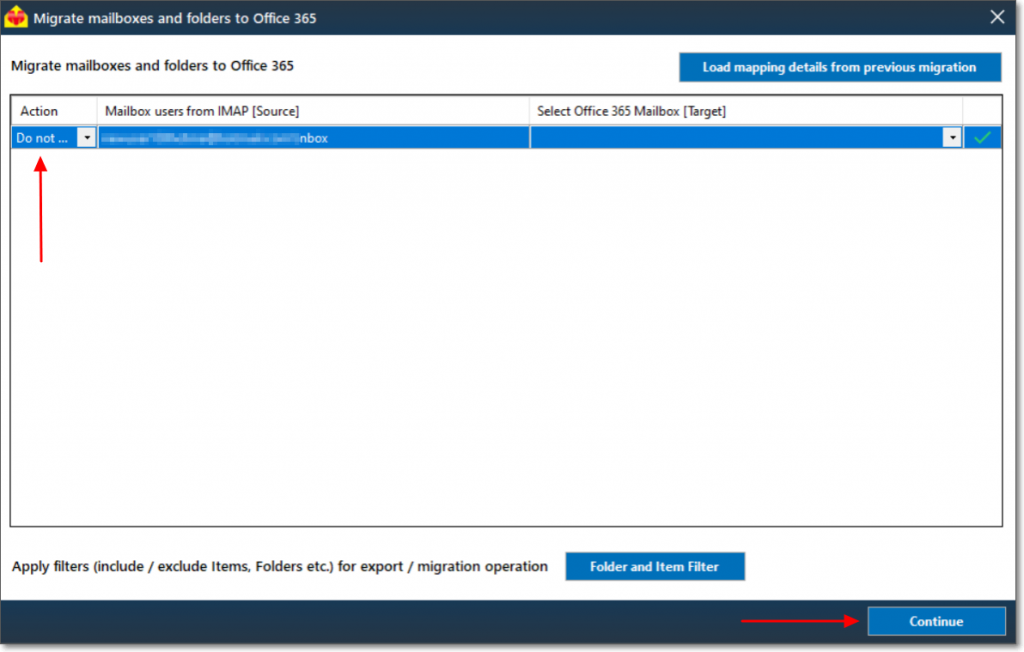 Step 12 : Migration process
After completing all the above steps, you can see this migration operation progress wizard. During migration, you can view the log by clicking the 'View Log' button, and also you can stop the migration operation midway by clicking on 'Stop' button.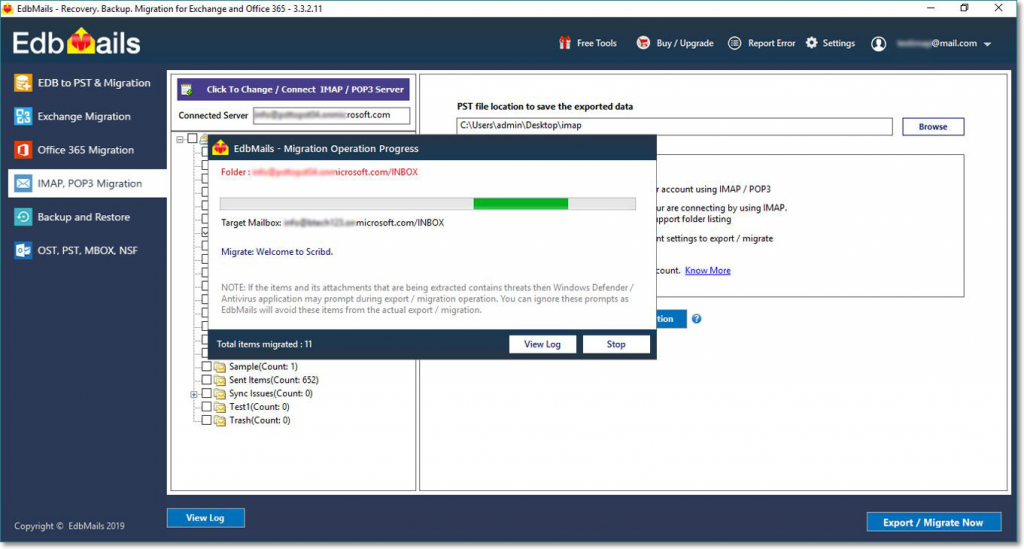 EdbMails is one of the best solutions that allows you to migrate mailboxes from Hotmail account to Office 365 efficiently. You can perform Hotmail to Office 365 migration with the EdbMails IMAP migration tool. It supports incremental migration to avoid duplicate items on the target. Without the involvement of additional third-party tools, it will perform migration operations.
For more information please visit https://www.edbmails.com/pages/imap-migration-tool.html