Microsoft has recently announced that Office 365 users will be soon using the new Microsoft 365 Admin Center in place of existing Office 365 Admin Center.
The new Microsoft 365 built is a complete IT solution including Office 365, Windows 10, Enterprise Mobility and security to provide organizations to create and work together safely and securely. Microsoft goal is to offer a unified toolset to manage and protect organizations using Office 365. In March, Microsoft announced Microsoft 365 admin center as the central location for managing and monitoring applications, devices, services, data and users for Microsoft 365 deployment.
Today, Microsoft has expanded and integrated intuitive admin experience to users of Office 365 as well. From now on users of both Microsoft 365 and Office 365 must access the new Microsoft 365 admin center. A new simplified experience for the Office 365 admins, as they can access other Microsoft services without giving up control and capabilities.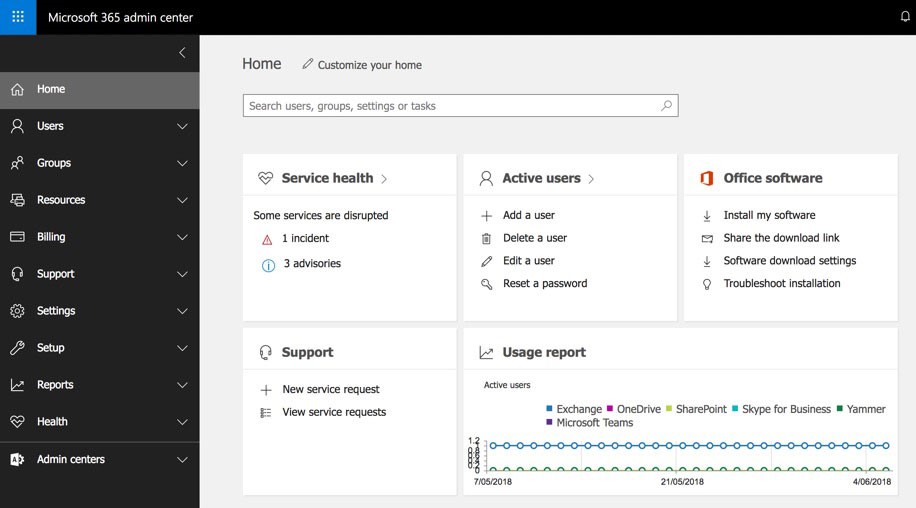 For the users who have already used Office 365 admin center before, the experience will be very similar. The navigation is the same and the users will have the same control over the environment.
Microsoft 365 admin center is the new door for monitoring all your Office 365 and Microsoft 365 services. The new admin center will include admin tools for services like OneDrive and SharePoint in the left navigation pane.
Efforts are being made to bring more administrative tasks into Microsoft 365 admin center, thereby reducing the need of separate portals to accomplish the job. As of now, Microsoft's cloud services suffer from "portal sprawl". Depending on the what users have subscribed for, they need to deal with separate portals for:
Microsoft Office 365
Exchange Online
SharePoint Online
OneDrive for Business
Skype for Business Online
Microsoft Teams
Security & Compliance Center
StaffHub
Azure (including Azure AD, Azure IP, VMs, Intune, Security Center, and so on)
Windows Defender ATP
Azure ATP
Bookings
Power BI
Microsoft Stream
Flow
PowerApps
With the benefits of independent teams having complete control over the admin experience, it's a better solution for users to do more in a single portal. The "Microsoft 365" product comes with services bundled (Office 365, Windows 10, EM+S) which is manageable through a single interface portal.