Email service has become such an important online utility these days that it's hard to imagine a day without it. It is a must for every organization to communicate over e-mail. With necessity comes safety of the data. Mails can be deleted or important information can be lost overnight. Backing up data is of paramount importance and any company which has not got its data backed up can be thought of as living under a rock. A backup creates a duplicate copy of data items that can be recovered at the time of primary data failure. This can occur when there is hardware or software failure, data corruption, malicious attack, or any other accidental deletion of data. In this article, let us look at the steps to perform IMAP email backup.
Do you know about PST?
PST is a Personal storage table that is used to store copies of messages, calendar events, archived items, and other items. Also it stores .ost files that are available to the users in offline mode. PST files are personal folder data and that are stored on the client's hard disk and OST files are used to save data for offline use which are stored in MS Exchange Server.
Let's see how to backup IMAP Emails using EdbMails application.
Prerequisite to convert to Outlook PST
You have to install the Microsoft Outlook application on your computer
Then create a profile in your Outlook
Step1: Download and install the EdbMails application
Click on the below link to download the application https://www.edbmails.com/pages/download.html
Double click the EdbMails setup (EdbMailsSetup.exe) to install the application.
Follow all the instructions to complete the installation.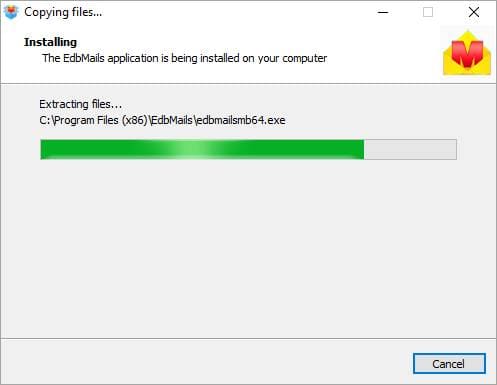 Step2: Login to the application
Click on 'Login' button to open the application and access the services from EdbMails. Or else you can also use the free trial version by clicking on 'Start Your Free Trial'.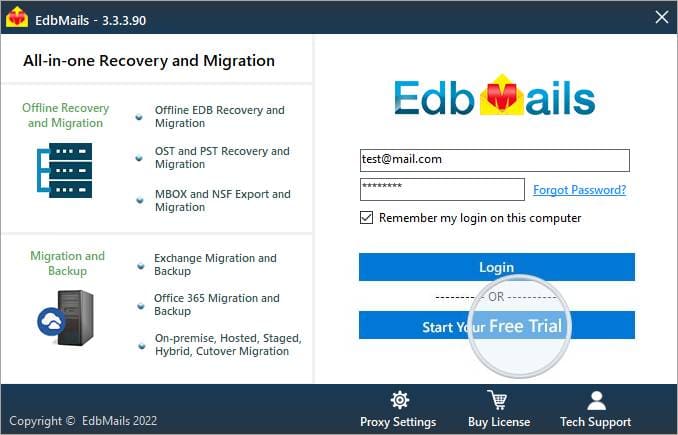 Step3: Select 'IMAP Migration'
Choose 'IMAP Migration' in the drop-down to perform IMAP Email Backup. Then click on 'Let's Go!'.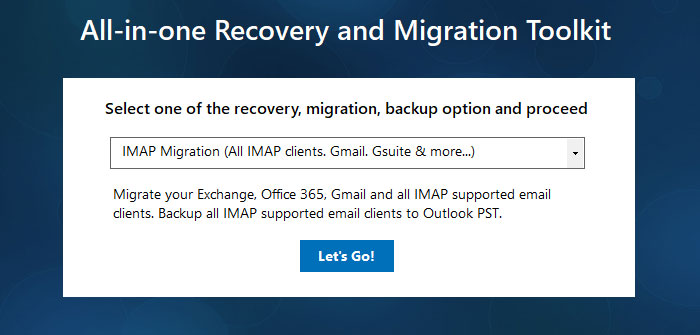 Step4: Connect to the source IMAP server
You have to login to the source IMAP server. After successful login, you will get the list of mailboxes.
There are two ways to connect to your IMAP server account
Connect IMAP Single Server
You have to select the 'Single Server', select the 'Connect to IMAP', select the 'Host Name', Enter the required credentials and click on 'Login'.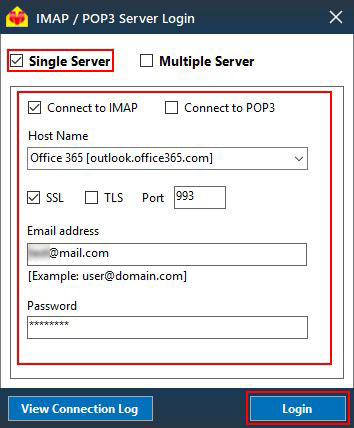 Connect IMAP Multiple Server
Select the 'Multiple Servers', select 'Connect to IMAP' and click the 'Load mailboxes from CSV File'.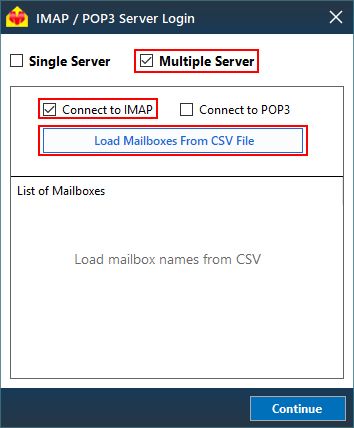 Click on 'Download sample CSV file', edit the sample CSV file and add the multiple mailbox details as requested. Then 'Browse the CSV file' to add it back.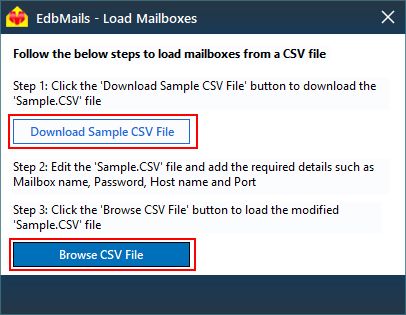 EdbMails application loads all the mailboxes entered in the CSV file as shown below. Click on 'Continue' to proceed.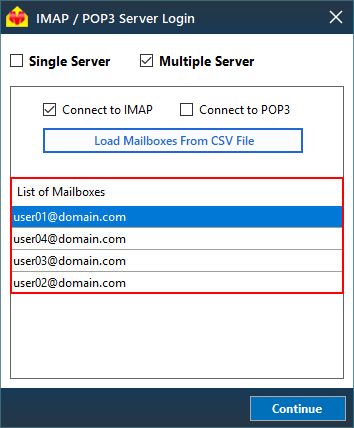 Step5: Export IMAP Emails to PST File
Here you can Backup IMAP Emails by exporting mailboxes from IMAP to the PST (Personal Storage Table). Select the required mailboxes from the left column. Click the 'Export to Outlook PST' button to continue.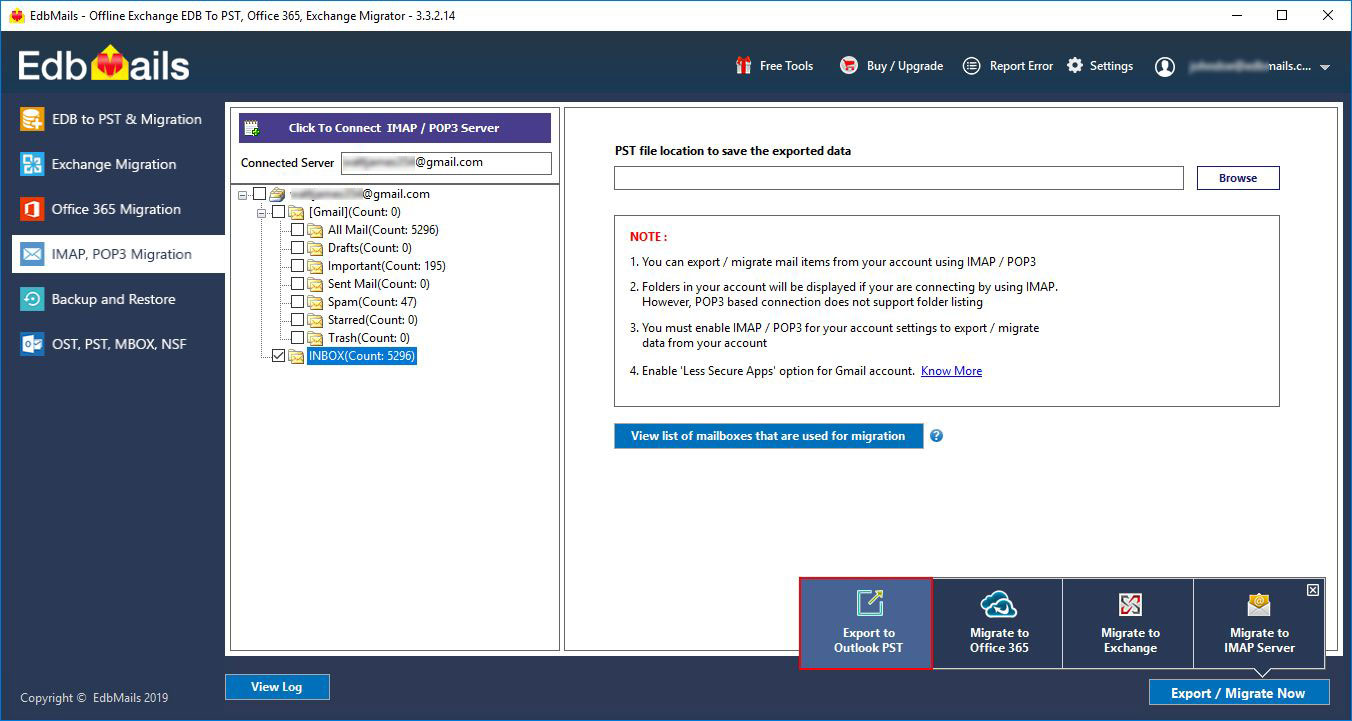 Step6: Set Action as 'Export'
You need to set the action as 'Export' then click on 'Continue'.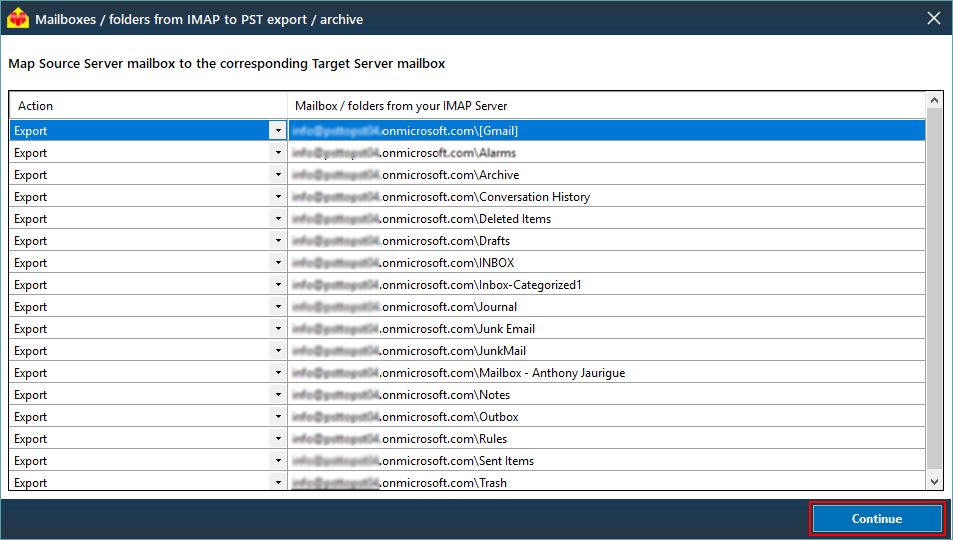 Step7: Migration operation progress
After completion of the above step, the export process will start displaying the progress as shown below.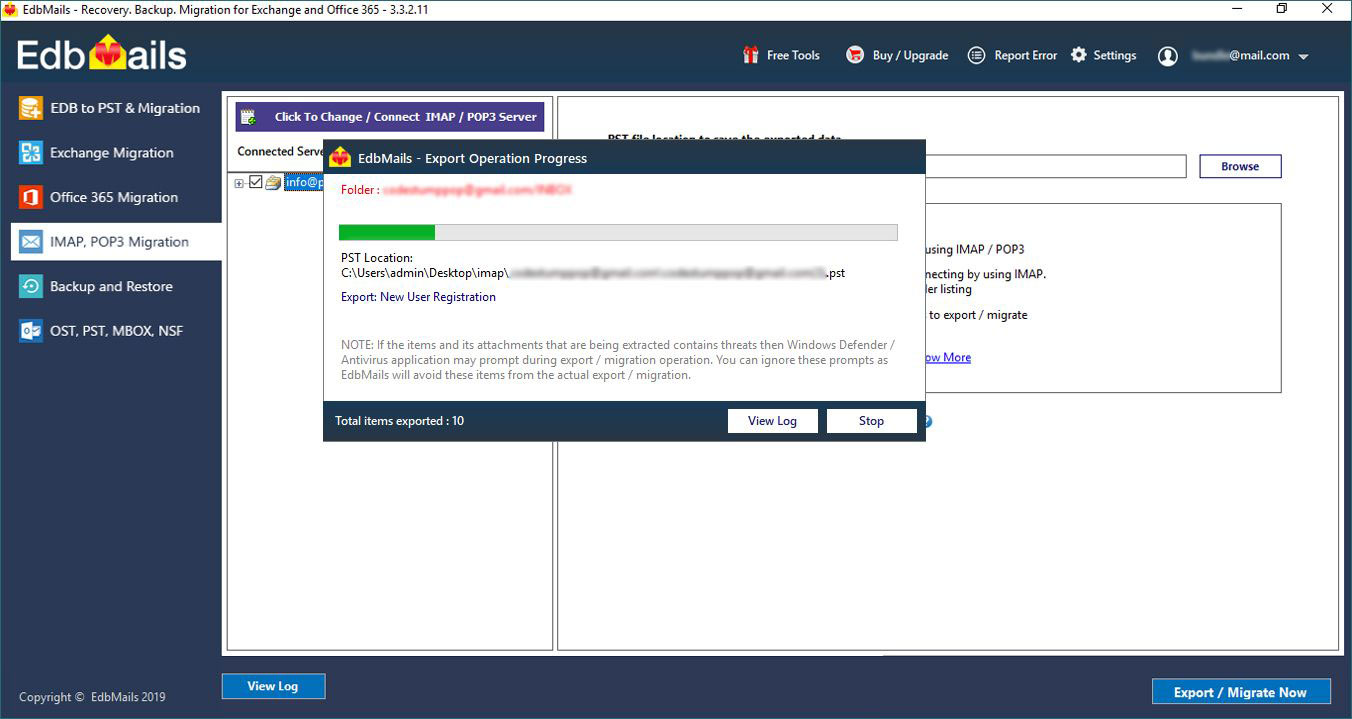 Once the export process is finally completed, you can see the detailed report by clicking the 'View Log' button. In that you can see the count of items that have been exported.
Backing up IMAP emails to Outlook PST using EdbMails is a secure and reliable approach and has never been so easy like before. For more information, please visit https://www.edbmails.com/pages/imap-to-pst-steps.html. The free trial version migrates 30 items per folder. With a purchased license, you will receive lifetime free software updates and free technical support.
Video: https://www.edbmails.com/pages/imap-to-pst-video.html