Microsoft Teams is the best platform for teamwork and collaboration. All your team conversations, meetings, sharing files and other information can be done in single workspace through online mode. Team members can quickly access the most relevant files and other required data.
EdbMails is one of the best solution to fulfil Microsoft Teams Migration requirements. It migrates meetings, private and shared documents, files, teams. With this tool, it is possible to migrate Microsoft Teams data safely and securely to your target tenant server.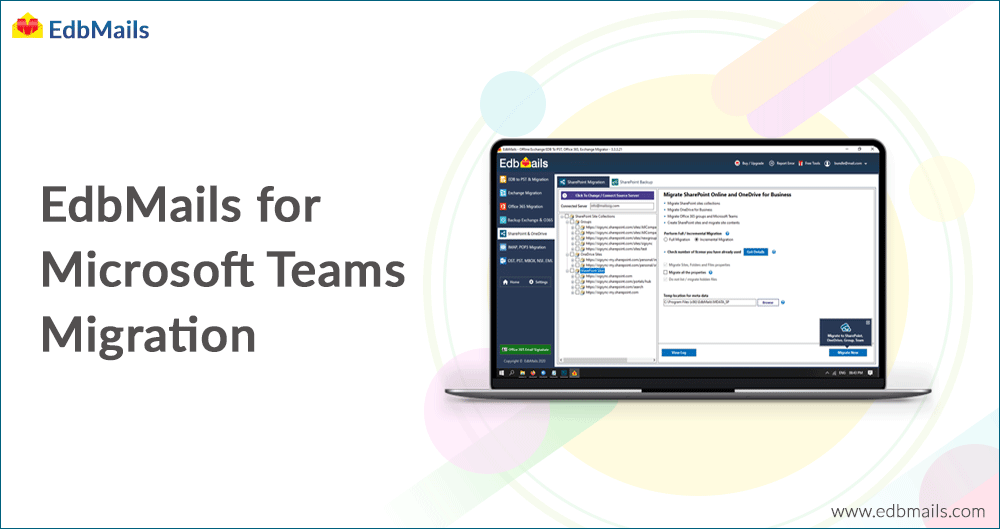 Some of the features supported by EdbMails tool for Microsoft Teams Migration are:
Possible to migrate the Teams data to same or different domain
With EdbMails, you can migrate the Teams data including documents, files, video, audio, contacts, notes, lists, links, attachments, etc. from the source to the same or different Office 365 domain.
Allows Teams Tenant to Tenant migration
EdbMails easily migrates Office 365 Microsoft Teams data including meetings, files, private and shared documents and teams from one tenant to another. It ensures that users never lose their valuable data which are stored in Teams sites and documents. Even after the migration, it allows users to participate and interact in Teams discussions.

Automatic mapping of teams
You will not face any problem while mapping Teams as the application automatically maps the Teams between source and target servers. You can also choose and map the sites manually.
Incremental migration
It is also known as delta migration or incremental copy. While migrating Microsoft Teams data using EdbMails migration tool, you can choose either full migration or incremental migration. The first migration by default, is always a 'Full Migration'. But subsequent migrations to that are incremental migrations. That is to say that migration of Teams data to the same target server from the same source avoids duplicate data on the target server. It will migrate only the new items to the target server.

Maintaining exact folder hierarchy on the target server
Microsoft Teams Migration using EdbMails tool maintains all the original Teams folder structure in target server and data will not be altered while performing the migration operation. This application replicates the exact folder hierarchy as that of source to the target.

No restrictions on size of data
There is no limitation on size and count of Teams data. Whatever be the size of the data, EdbMails Microsoft Teams Migration tool will migrate all the Teams data to the desired target location.

Teams and its associated data migration
Using EdbMails Migration tool, it is possible to migrate entire Microsoft Team data including its associated SharePoint site. You can work with the same team and optimize your collaboration using the migration of owners, members and permissions.
No impact on users or downtime issues
Users experience practically no impact during Microsoft Teams Migration. They can carry on with their work as usual. EdbMails ensures continuity of workflow and zero downtime.
Easy handling of Office 365 throttling
During migration of Teams data, EdbMails easily handles Office 365 throttling and interruptions in the connection during migration operation.

User friendly interface
EdbMails provides user-friendly interface to perform migration operations. Anyone can use this application without having technical knowledge and easily migrate data from source to the target server
Possible to do granular migration
It provides you the option to select the files which you want to migrate to the target server. In this case, only selective data will be migrated to the target server.
Conclusion:
We hope this article is helpful to know more about the advantages and features of Microsoft Team migration using EdbMails application. With this tool, you can perform easy, safe and fast migration of data.
For more details visit:
For Microsoft Team migration overview: https://www.edbmails.com/pages/microsoft-teams-migration.html
For migration step-by-step procedure: https://www.edbmails.com/pages/microsoft-team-migration-guide.html