Many peoples are using Microsoft Outlook PST File. The outlook PST is a most popular, but sometimes makes problems like "Kernelbase.dll" errors. Many outlook users are facing the "KERNELBASE.DLL" problems. If you're using outlook, you should have more experience in kernelbase.dll error. While trying to open your outlook, If it is crashed then one popup message box will open by saying "Microsoft Outlook has stopped working" if you want to see details of error just click the "View problem detail". Its Problem Event Name is APPCRASH and Fault Module Name is KERNELNBASE.dll. Kernelbase.dll error occurring in your Microsoft outlook then your PST file also will get corrupt or damaged.Then you have to repair and recover corrupted or damaged PST file. By recovering all items like emails, Calendar, contact, task, note, journal, attachments etc.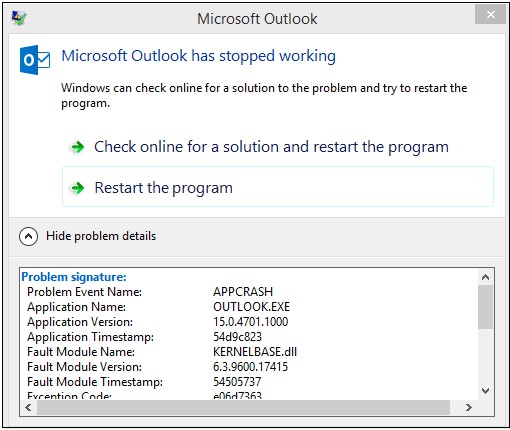 Reasons for Outlook kernelbase.dll error in PST
Many reasons are there behind corruption & damage of your outlook PST file and also the generation of outlook kernelbase.dll. You should know this cause which is the responsible for corruption of your PST file, and try to avoid this situation in future to be safe.
Hardware Reasons:
Data gets Corrupted,Whenever the hardware fails while transferring or storing your Outlook PST file. Three main three reasons are there in hardware corruption.
Data Storage Device Failure:Whenever the hard disk have bad sectors and if the files are saved in that particular sector and then it causes the outlook error like kernelbase.dll. In this situation it's not possible to read a particular pst file from bad sectors and it leads to pst file corruption.
Networking Connection Failure:If Outlook PST resides on network server and if you try to access the particular file from your client system. Sometimes you may have errors in network hardware like routers, cards, hubs or other and it may lead to corruption and pst file damage.
Power Failure: When accessing your outlook PST file that time if power failure happens, in this case your pst file gets corrupted.
Software Reasons:
Additionally numerous Outlook PST File corrupts because of software related issues.
Virus or Other Malicious Software:Viruses not only corrupts the PST files but also does the file inaccessible. Outlook error kernelbase.dll occurs with data loss because of downloading the files from untrusted sources.
Terminate Outlook Abnormally: It's very important to save files while closing or exiting from outlook and it should not be closed abnormally which leads to the PST file corruption. All these problems cause error like kernelbase.dll.
Synchronization Error: when user gets thesynchronization error, the offline folder and the server also may lead to some errors.In this condition user will not have the permission to open the outlook PST file.
Outlook Kernelbase.dll Error Resolving Manually
Follow the below steps to resolve the outlook kernelbase.dll problem in manually.
Outlook Add-ins
Disabling Outlook add-ins is very simple and it can be done in two different ways:

a). If you are launch outlook
In the event that you can launch the application, however Microsoft Outlook crashes with 'KERNELBASE.DLL' when you try to do any action, the issue might exist in a flawed add-ins.We can disable the problem manually just by following the below steps:

In Microsoft Outlook go to "File" and select the "Option" in that option click "Add-in"
At the bottom of the screen just click the "Go" option button.
From the list will show all the add-in, you just uncheck those add-in boxes. All add-ins will disable from the list.
Next click "ok" button.

b).Unable to Launch Microsoft Outlook

If you are not able to launch outlook, try the follow the below steps to disable the "add-ins".

Open windows and Run dialog
Next Type "Outlook/Safe"
Then Enter

This will be launching in Microsoft outlook without any "add-ins" and it gives chance to enable one after the other to find erroneous one.

After executing above steps if the issues are not solved then the problem is not in "add-ins" but in outlook PST. We should move to next step to solve the problem.

Repair Corrupted PST using ScanPST.exe

For the conditions like this Microsoft designed inbuilt Inbox Repair Utility ScanPST.exe. This will fix the minor errors in the outlook PST file and makes it reusable. Follow the below steps to repair the PST file by using this tool.

First locate the ScanPST.exe in your system program file: C:\Program Files (x86)\Microsoft Office\Office14
Click on "Scanpst.exe" tool and click "Browse" button to select which is corrupted PST file. And click to "Start" scanning.

The tool after scanning corrupted PST files, error details display. Next click the "Repair" button to repair corrupted PST file.

When repairing process is finished, you will see this message.


Above mention steps for manual approach so user can recovery corrupted PST file easily, but this method not gives exact result for all the times. This Scanpst.exe is only performing minor PST issues.

New Outlook Profile

If those techniques get failed, then better option to create your new outlook profile. The new outlook profile is generates the new PST file. This technique helps you to recover corrupted PST file.

First check your outlook is closed
Click "Start Menu" and select the "Control Panel" next click "Mail".
One new dialog box will show. In that click the "Show Profiles" option button.
One new popup dialog box in that select "Add" option and create your new outlook "Profile Name" next click the "Ok" button.

After executing those steps if you are facing the same "KERNELBASE.DLL" error better way to select third party tool is called "EdbMails PST Recovery Tool".
Solution
After executing above mentioned techniques,if you are unable to solve the "kernelbase.dll" issue, then your outlook PST may be totally damaged. Better way to select third party tool called "EdbMails Outlook PST Recovery Tool". This software developed with most advanced techniques, so this software recovers damaged outlook PST file without any issues. User can recover all corrupted items like mailbox, contact, calendar, task, Note, journal, attachments, etc. After recovery user can restore PST to .PST or migrate to live Exchange server, or migrate to office 365. This tool recovers deleted items also without any data loss. For more information please visit: https://www.edbmails.com/pages/outlook-pst-recovery.html