OneDrive migration for a business tenant to another is normally used when the company merges with another company. It is possible to migrate mailboxes, instances, OneDrive accounts, and documents including photos, audio, video, DOC, TXT, PDF, etc from one tenant to another. There are however native methods to achieve the same. But they are generally time consuming and demand Power-Shell scripting knowledge. Manual methods also come with an added limitation in that they pose challenges when migrating large amounts of data. Speed and bandwidth issues, throttling, incomplete migration are some common issues that are encountered.
When it comes to the swiftness of data transfer, no-limitation on file size, zero downtime and zero user impact, you can use EdbMails OneDrive for business migration tool for quick and easy data migration. This tool allows you to avoid data loss and errors during the migration process. During migration you can choose selective files and folders and you can apply filter options as well. This application also supports the migration of One Drive for business site to the same or different domain.
Some of the features supported in EdbMails OneDrive for business migration
It maintains source folder hierarchy on the target server.
Provides a user-friendly interface.
No loss of data during migration.
You will get a detailed migration 'log report' after migration.
You can migrate files, folders, and data of any size.
You can perform incremental migration.
It is possible to migrate only selected folders and items from the source server.
How to perform the migration using EdbMails tool
We have proposed a simple and safe way to move data from one OneDrive for Business tenant to another. To perform this migration follow the steps below.
Step 1: Download, install and run the EdbMails application from the website https://www.edbmails.com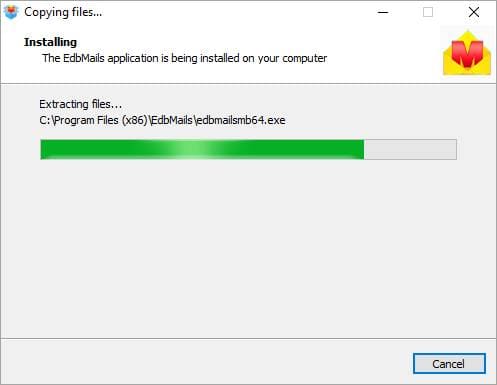 Step 2: Login to the application
You can either use a free trial account or purchase the license. The trial account migrates only 30 items from each folder. With a purchased license, you will receive free software updates and technical support for life.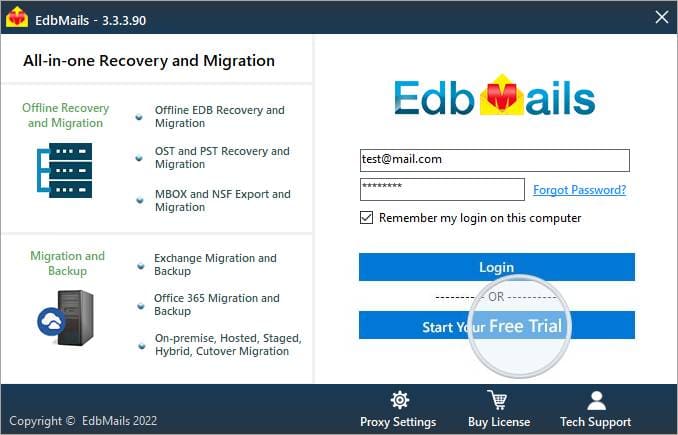 Step 3: After successful login, you have to choose OneDrive migration
You will get a list of different migration operations. In that select the option 'SharePoint Sites, OneDrive, O365 Groups & Teams Migration' then click on 'Let's Go!' to continue the process.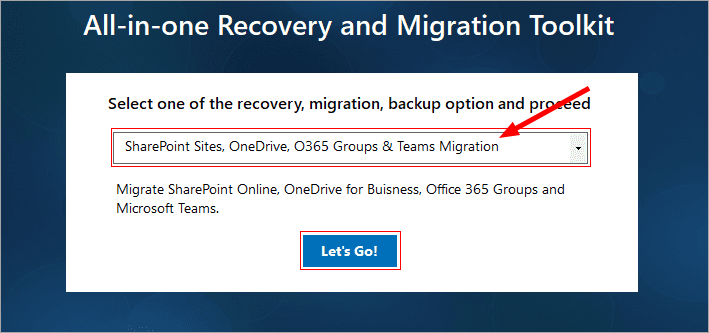 Step 4: Connect to the Office 365 Admin account (Source)
To perform the migration, you need to connect to the Office 365 admin account with the appropriate company site URL and credentials then click the 'Login' button. (In the 'Site URL' part you have to enter company name and it should be same as in the Office 365 admin account.)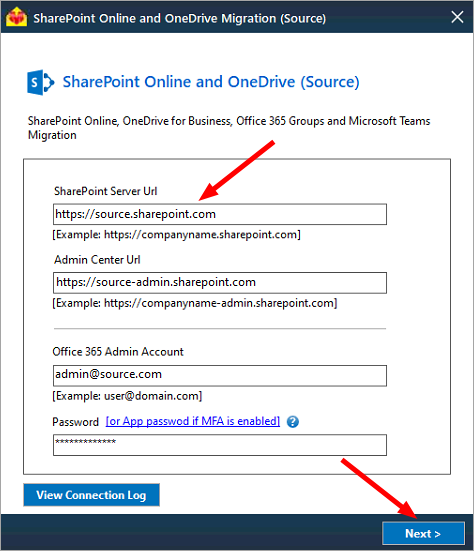 Step 5: Now perform OneDrive for business migration.
Here select the required sites and sub-sites. Then, choose the migration type as 'Full migration' or 'Incremental migration'. The very first migration is always a 'Full Migration'.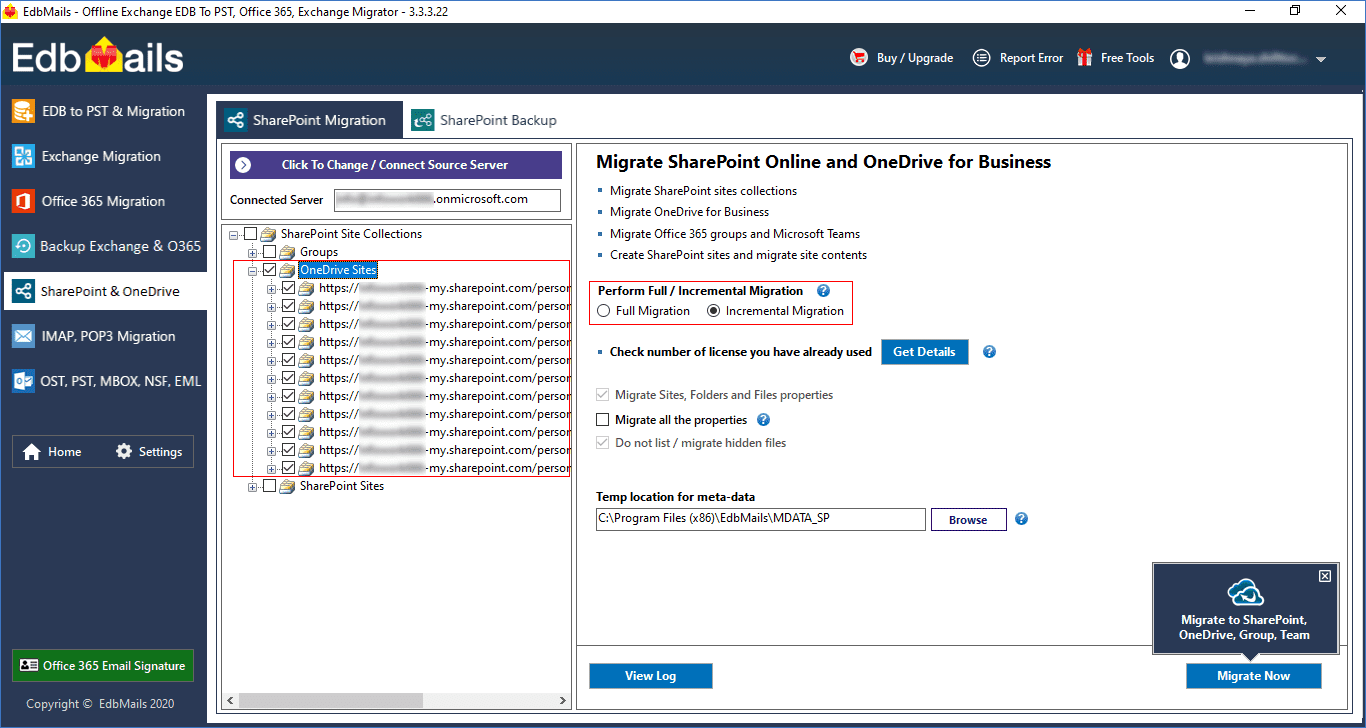 Step 6: To continue the migration process, Click on 'Migrate to SharePoint, OneDrive, Group, Team' button at the bottom to continue.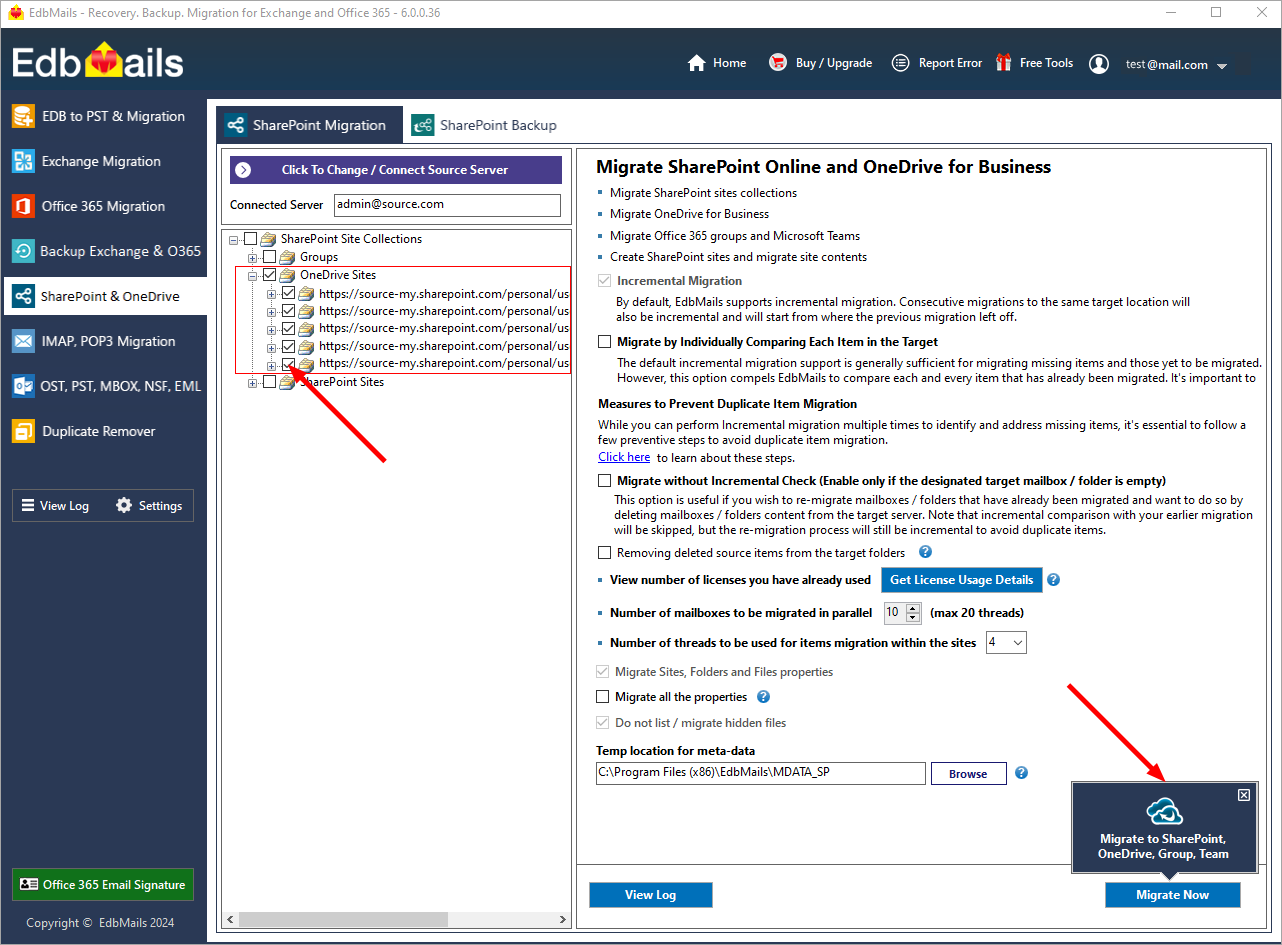 Step 7: Login to Office 365 Admin account (Destination)
Now login to destination Office 365 account with appropriate company site URL and credentials then click on the 'Login' button.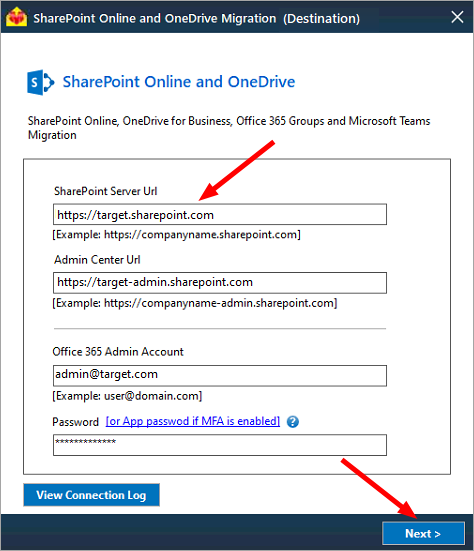 Step 8: Map Source and Target sites
Select the option to map source sites/folders with the corresponding target sites/folders and click the 'Continue' button.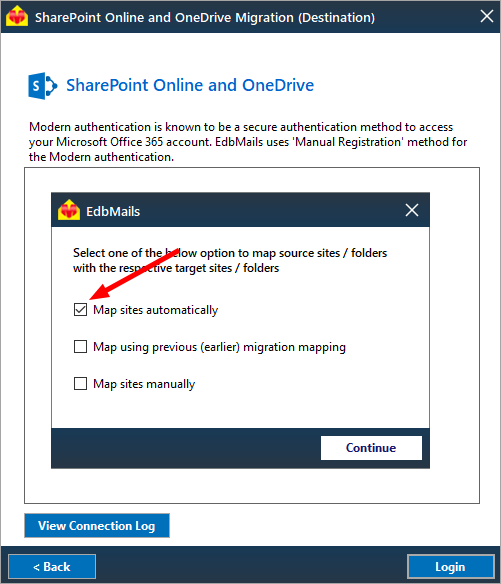 Step 9: Start the Migration Operation. Set the Action as 'Migrate' and click the 'Continue' button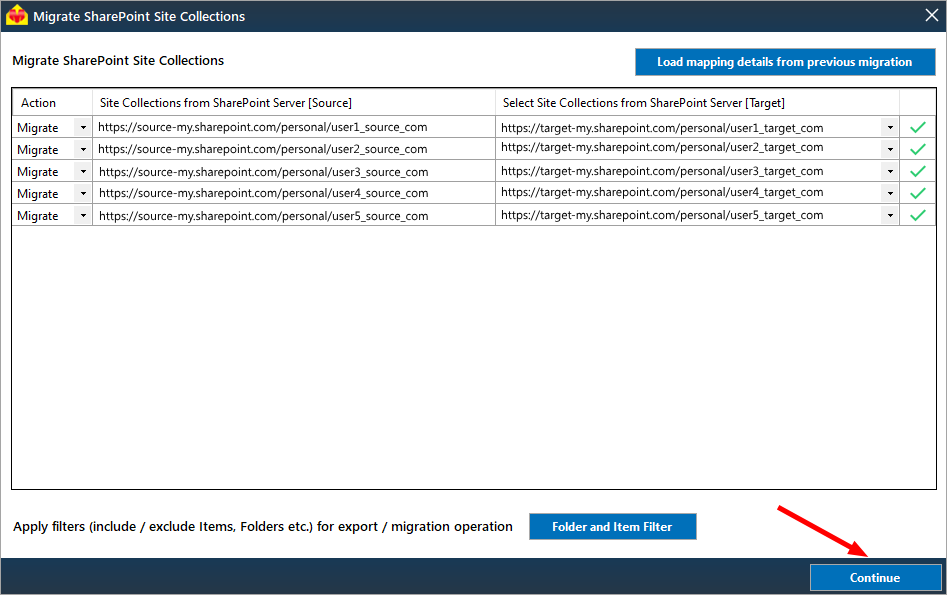 View log
You can monitor the progress of your migration. There is an option named 'View log', If you click on that, you can see the detailed migration report. The generated report consists of folders and the exact count of files and documents of every folder. Also, it includes the success or failure status of the migrated sites.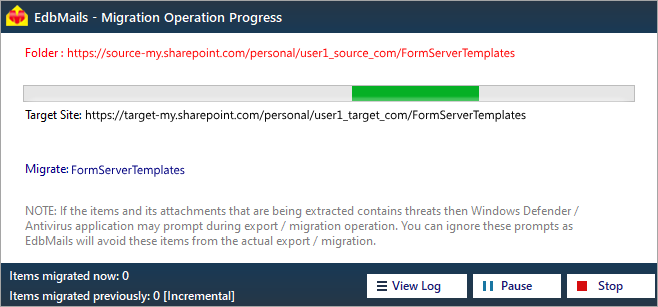 After completing all the above steps, you can verify the migrated items at the target server. You have to login to your target/destination Office 365 account manually to check those items. If you find the migration operation helpful and advantageous to serve your business needs,then Please go through this link to know more features the EdbMails tool has to offer https://www.edbmails.com/pages/onedrive-migration.html.