What is Cutover Migration?
Cutover migration is used to migrate all your on- premise Exchange mailboxes to Office 365 at once in a single migration batch, within a few days. Office 365 reads all contents such as emails, contacts, calendars and then provisions a new mailbox and duplicates as same as the older mailbox.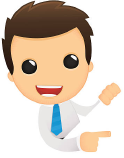 Scalable and High performance Exchange migration
Exchange Server Migaration to any destination is with multi threading capability with throttling management can make your migration fast and high performance.


This type of migration can be used for only Exchange 2003, 2007, 2010 or 2013. And the mailbox limitation is only 2000. Administrator can perform Cutover migration by using either Setup wizard or Exchange Admin Center(EAC). You can migrate only 150 mailboxes if you use Setup wizard, whereas by using EAC you can migrate up to 2000 mailboxes.
Tasks involved in Cutover Migration to Office 365
Add your Domain to Office 365
Go to outlook.office.com. In Admin center, under Domain click on Add a domain.

Once you click on Add Domain, it will open a new window. Enter the Domain name you own. And click on Next.

Here you have to add a Text record or MX record to DNS hosting provider. So that the Office 365 will verify the Domain which you have entered in the previous step. Click on Step by step Instructions, it will guide you, how to create and upload the Text record. Once you finish with creating and updating the Text record, click on Verify.

Now the Office 365 verifies the domain. If the verification is successful, it will display the successful message as shown in the below image. Save it and Close.
Preparing On-Premises Environment
What is Outlook anywhere?
Outlook Anywhere formerly known as RPC over HTTP. It is required to connect to your on- premise Exchange Server. It allows the end users to access the Calendars, Corporate emails over the internet from outside the corporate domain without log in to a Virtual Private Network(VPN). Outlook anywhere automatically configures to exchange 2013. But in case of Exchange 2003,2007 and 2010 you need to configure it manually.
In Exchange server 2010 enable outlook anywhere so that, the user can access their Exchange mailbox through internet.
You must be having SSL certificates that is issued by the Trusted Citification Authority(CA). And you need to add both outlook anywhere and Auto Discover service to this SSL certificate.
In order to migrate, the on- premises Exchange organization has to set some permissions such as FullAccess permission and Receive As permission.
Unified Messaging should be turned Off before you start the Migration for the On- premise mailboxes which you want to migrate. Once the migration is completed turn it On.
You have to clean up the delegates if at all any other Active Directory object, such as user mailbox that is not migrated to Office 365 is assigned as a manager or delegate to an object being migrated.
You have to create an empty mail-enabled security group in Office 365 before starting Cutover migration, so that you can have Security groups in Office 365.
Set up a connection between Office 365 and your Email System
Setting up the connection between Office 365 and the Email system is nothing but creating a Migration endpoint. Migration endpoint is a management object in Exchange Online that contains the connection settings and administrator credentials for the source Exchange server which hosts the mailboxes that you want to migrate to Office 365.
How to create Migration endpoint?
Go to Outlook.office.com. click on Exchange Admin center.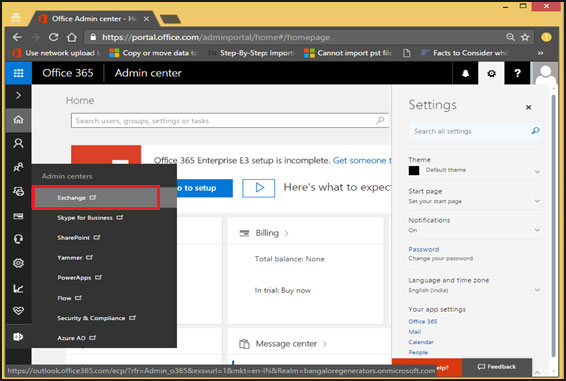 In the dashboard click on recipients and then migration. Now click on more (…) and then choose migration endpoint. It will open a new window. Click on Add (+) to add new migration endpoint. In the new window select the migration type as Outlook anywhere. Click on Next.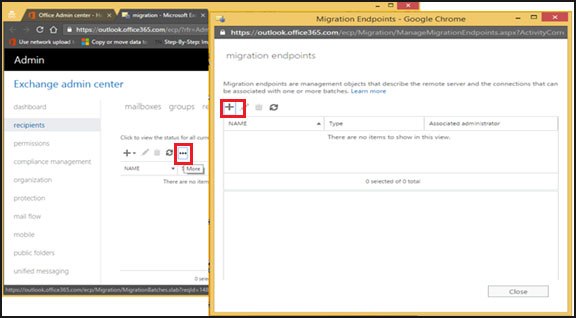 After you click next, in a new window it will ask you to enter the on premise account credentials of a user whose mailbox will be migrated using this endpoint. Enter all the details and Click Next. A new page will be displayed to Create Migration endpoint. Enter the name for Migration Endpoint and Finish.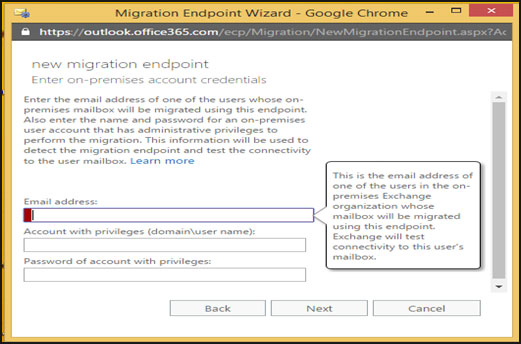 Migrating your Mailboxes
Once you are done with creating migration endpoint, you have to create Cutover Migration Batch.
In Admin Center, In the left pane expand Admin then select Exchange. In the Exchange Admin Center page click on Migration and then click on Add (+) and select the option Migrate to Exchange online.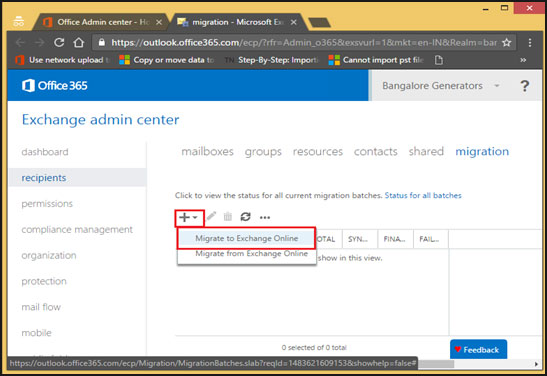 In the next page you have to choose, using which migration type you want perform migration. Select Cutover migration. Click next. In the next page you have to confirm the migration point. Enter the essential details and finish.
Now, you have to start the migration batch. In Exchange Admin Center when you click on Migration, it will display the migration batch which you have created before. Click on start, if it is successfully started then status will change to Syncing. Once the migration is done the status will be changed to synced.
Create Mail Enabled User Mailbox
Once the initial synchronization of the mailbox to Office 365 is complete, you have to now create mail enabled User mailbox from on- premises mailbox. Because after the Cutover migration, if you open the mailbox in outlook, the Auto Discover service will still try to connect to the on- premises mailbox. But once you convert on- premise mailbox to mail enabled user then the Auto Discover service connects the mail enabled users to Exchange online mailbox.
Routing your email to Office 365.
Now, you have to update 2 DNS records such as MX record and SPF record or Text record to ensure that the mail flow is happening properly to and from Office 365. This can be done in DNS hosting provider.
Assign Licenses to Office 365 users
After the migration you have to assign the licenses to the Office 365 users. Otherwise the mailbox will be disabled after 30 days.
Delete Cutover Migration batch
Once all the above steps are successfully completed, the next step is to delete the migration batch. Before that you have to make sure that the users are started using and receiving the mails in their Office 365 mailboxes.
To delete the migration batch, Go to admin center. In the dashboard under Recipients click on Migration. Select the migration batch and Delete.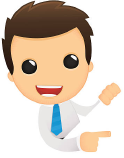 Scalable and High performance Exchange migration
Exchange Server Migaration to any destination is with multi threading capability with throttling management can make your migration fast and high performance.