OST and PST files are the fundamental to the proper functioning of Microsoft Outlook. However, what is the difference between them? This is the question that bugs many a people especially rookies. But before we proceed to answer the question we must first understand what constitutes OST and PST files as we know it and what purposes they serve.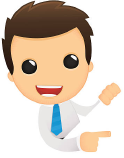 Quick Solution
EdbMails for OST to PST Converter is a free tool to convert orphaned OST Files to PST. Also, you can perform OST file migration to Live Exchange or to Office 365.

Outlook Data file (.PST)
The PST file or Personal Storage Table is generally created whenever you setup a POP account in Outlook. It stores all the contacts, emails, calendar entries etc. PST files are stored on the local drives and are therefore not bound by any mailbox size limitations set on the exchange server. This means that they can be used for freeing up space on the server and also backing up or archiving mailboxes. Another important characteristic of PST files is that they can be stored anywhere and later imported into Outlook to access the data contained within them.
Offline Storage file (.OST)
Offline Storage Table or .OST file is a copy of your exchange mailbox and allows you to continue working even when the connection to server is interrupted for some reason. OST files are generally created when Outlook works in cached mode. Thanks to OST files you can access your mails, tasks, calendar or other data that have been previously downloaded. It also enables you to compose mails, create events or contacts and so on, which it later synchronizes with the exchange server when the connection is back online. Thus, OST files ensure that workflow is maintained and any changes you make are automatically synced with the exchange server.
The location of Outlook data files can be found by going to Outlook File menu>Account Settings>Account Settings…>Data Files tab.
Difference between OST and PST files
While both OST and PST files cannot be opened directly, PST files can be transferred from one computer to another if need be and imported to Outlook whereas the OST files cannot be accessed independent of the Outlook profile that create them. This is the primary reason why PST files are preferred for archiving mailboxes as they are easily manageable. While OST files sync data automatically with the server the PST files don't offer any such provision.
To summarize:
OST files allow for offline viewing of the exchange mailbox.
PST files are a locally stored copy of the exchange mailbox that may or may not exist on the exchange server.
PST files can be directly imported into Outlook.
OST files can only be accessed via the Outlook profile that created them.
In case you have an orphaned OST file and need to extract the data within or are faced with a corrupt or inaccessible OST file due to sync related issues, you can make use of EdbMails to repair and recover contents from the OST file as described here.