Exchange eseutil is Exchange Server Database repair tool for Exchange users so that they can use with EDB file's related issues proficiently. Exchange eseutil commands allows you to perform functions such as EDB file verification, alteration, or database repair. Eseutil is basically a command-line way to work with Extensible Storage Engine (ESE) database files and allied log files of Exchange Server database.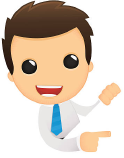 Quick Solution
EdbMails for EDB to PST Converter
is an free tool to convert online & offline corrupt and healthy EDB Files to PST, Live Exchange and Office 365.

ESEUTIL is a command line utility which is helpful to resolve issues in the Extensible storage Engine or Jet Engine of Exchange database. ESEUTIL helps to view, repair and modify Exchange database.
The following facts can be the reasons for the users that they can't be satisfied with the ESEUTIL tool.
Permanent loss of data:

The command eseutil /p may delete the data permanently that can't be recovered. So, this causes permanent loss of EDB data. So, one should need to have backup before using eseutil command. Corruption may remain ever after using the eseutil command.

More space consumption:

As eseutil /p and eseutil /d commands occupy minimum 20%, 110% free space for performing operation. It would make database to create extra size which is not possible.

Inconsistence of eseutil command:

Sometimes you may face the situation of never ending of errors, this could cause inconsistence. So you need to go with isinteg command to overcome that inconsistency.

Long duration process:

Eseutil will take more time for the operation to complete. In case of large database, the condition is too bad. It is a time-consuming process as you need to run commands multiple times.

Complexify process:

Sometimes even expert also can't get way to end process during executing commands. In such cases it is very difficult to recover database in a convenient way.

Wrong command execution:

A wrong command may further delete or corrupt the data. verifies the checksum of data of EDB file.
How does EdbMails Exchange Server different from ESEUTIL?
EdbMails removes the Index corruption of EDB file and recover all the data.
It maintains the integrity of the database.
EdbMails does not delete or corrupt the EDB file.
EdbMails does deep scans of whole file and removes the index corruption.
Supports large EDB file in Tera bytes.
You can recover the required mailboxes and its folders using GUI.
To overcome all the above-mentioned limitations of eseutil tool it is better to choose third party tool like EdbMails Exchange server recovery tool.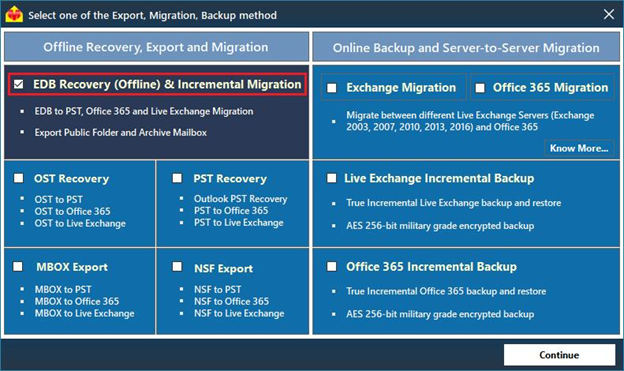 To conclude
Using EdbMails application you can recover the data and convert EDB to PST and also you can migrate EDB file mailboxes to Office 365 or to Live Exchange server flawlessly without any data loss, as it is built by an advanced algorithm. The tool recovers the data very quickly. The GUI is very easy and simple to use, so that you can achieve the recovery operation in few clicks.

Other related Products:
Exchange migration:
Making the Exchange migration move. Whether you are planning to abandon your Exchange Server altogether or to go the hybrid mode. You can user EdbMails Exchange migration tool, it supports migration of Exchange Server to Office 365. Cross-forest Migration, Office 365 tenant to tenant, and mixed-mode migration.
Office 365 Migration:
Simplify your Office 365 migration and management needs. EdbMails solutions for Office 365 helps you to have easy control, whether in Office 365 or a hybrid Migration.
EdbMails Office 365 Migration Transformation Services can help you create a successful productivity migration of all your mailboxes to Office 365.
Office 365 Email signature:
Sigsync Office 365 email Signature Manager and exchange online signature management is set up using a secure, web-based access-controlled interface with Mail flow and Office 365 inbound / outbound connectors within your Office365 environment enabling your mails to route through the Sigsync Office 365 email signature.