Individuals and businesses are using Microsoft Office 365 applications like OneDrive and SharePoint to store the data in a central location and work with those data. SharePoint is a more of a collaboration tool which enables groups and teams to work on a common project at a time.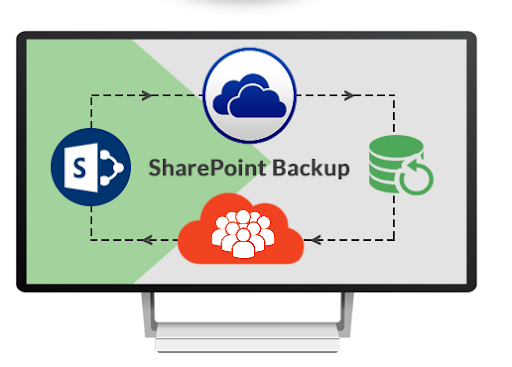 Many users are normally overconfident about the services Microsoft has to offer. High-uptime, on the fly updates, seamless integrations make it enticing for some lazy folks to skip the backup operations altogether. To be on the safer side and have a benefit of doubt about data loss, backing up has always been the top-priority. It is always good to have reservations about the safety of our data when using cloud technologies. The main motto of backup is therefore to create a copy of data that can quickly be restored, should data loss happen at the primary location. Some of the major reasons for data loss are accidental deletion/user error, overwriting the data, hardware corruption/failures, and other unfortunate events like thefts, fire outbreaks, ransomware threats, hacking which we discuss further down.
Why you need backup?
As organizations store important data on the cloud, it is necessary to perform frequent backups to avoid unforeseen catastrophes. It can't be stressed enough, how important a backup is to an organization like feathers are to a bird.
Here are some scenarios which strongly demands backup operation:
Data may be lost permanently when the user deletes important data knowingly or unknowingly. It would be a herculean task to get those data back. In this case backup helps to restore the deleted data.
If the files are corrupted or affected by malware, then it cannot be easily recovered. Additionally, it takes more time to rebuild the corrupted files or may even prove expensive.
Data will not be available to access during a massive cloud outage. Backup helps to access all the important data without any intermediate interruptions.
Ransomware attacks may damage data files permanently. Fraudsters may demand huge money from companies to release important data. As these attacks are so rampant, one can totally avoid the disgrace by having backups.
EdbMails SharePoint Online and OneDrive for business backup tool is one of the best tools to perform secure and simple backup operation.
What SharePoint Online Data and OneDrive for business data can be backed up using this application?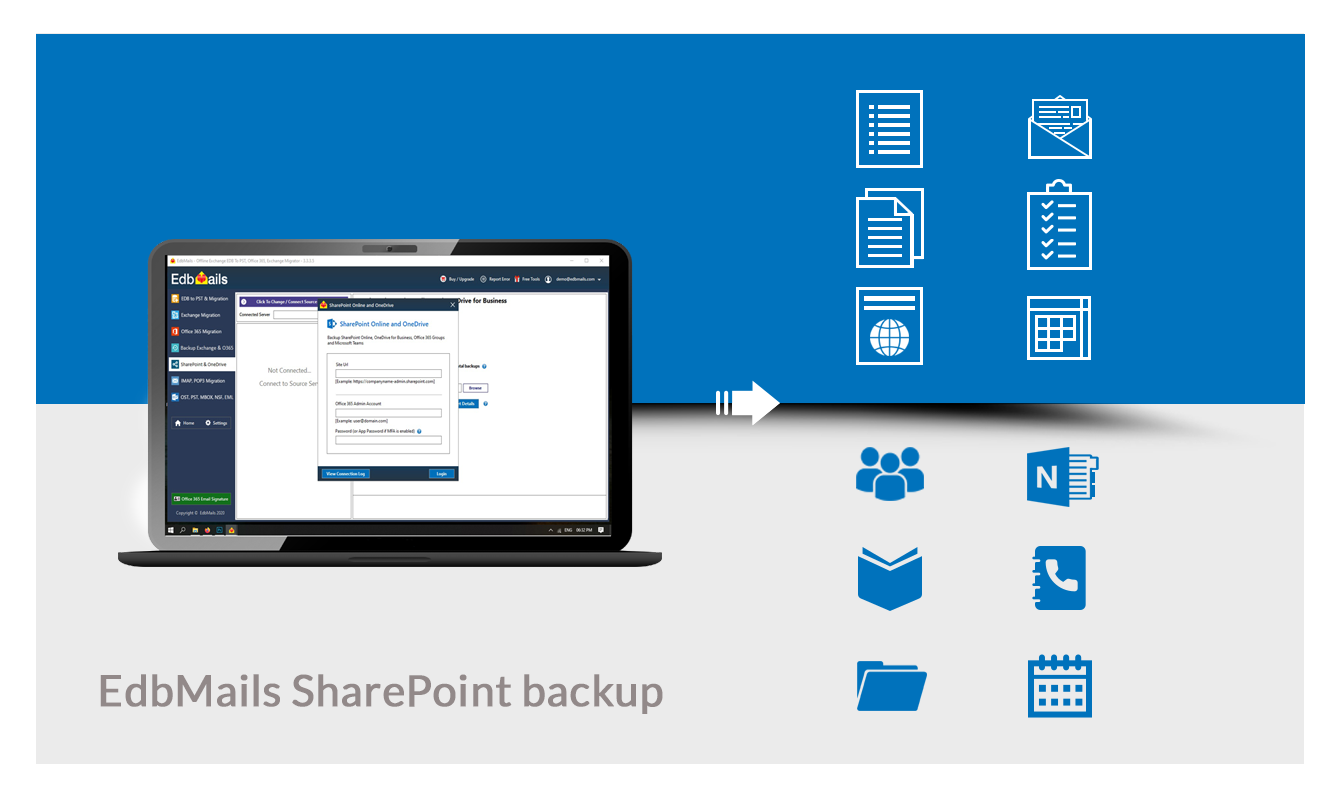 Users can backup the following data from SharePoint
Documents
Libraries
Lists and list items
Sites and sub-sites pages
Communication sites
Team sites
Folders
Files
OneNote notebook
Events
Tasks
Contacts
Calendars
Email categories
Permissions
Users can backup the following data from OneDrive.
OneDrive Folders
Documents
Picture library
Personal Office 365 user site
What SharePoint Online Data and OneDrive for business data can be backed up using this application?
Step 1: You have to first login to the EdbMails application or can start a 'Free Trial'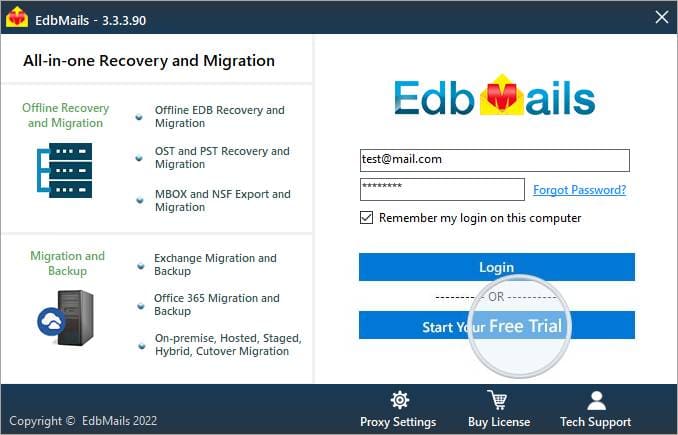 Step 2: Select SharePoint Online and OneDrive for business backup.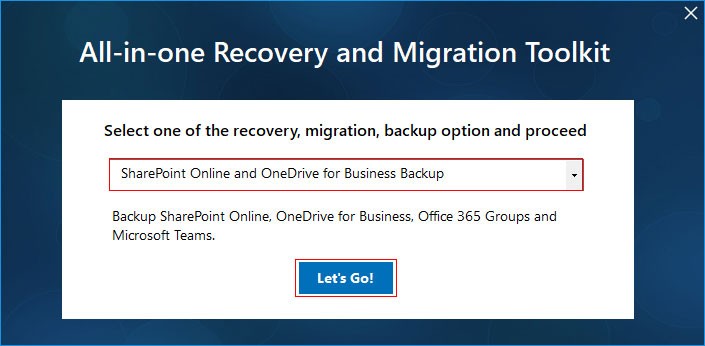 Step 3: You need to Connect to the Office 365 account with appropriate company site URL and credentials then click the Login button.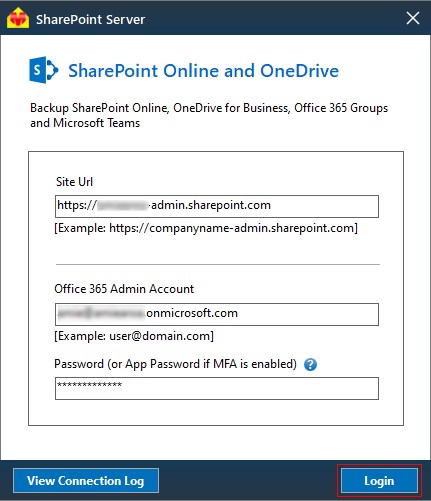 Step 4: Select the required folders for the backup and then click on 'Backup SharePoint, OneDrive, Group, Team'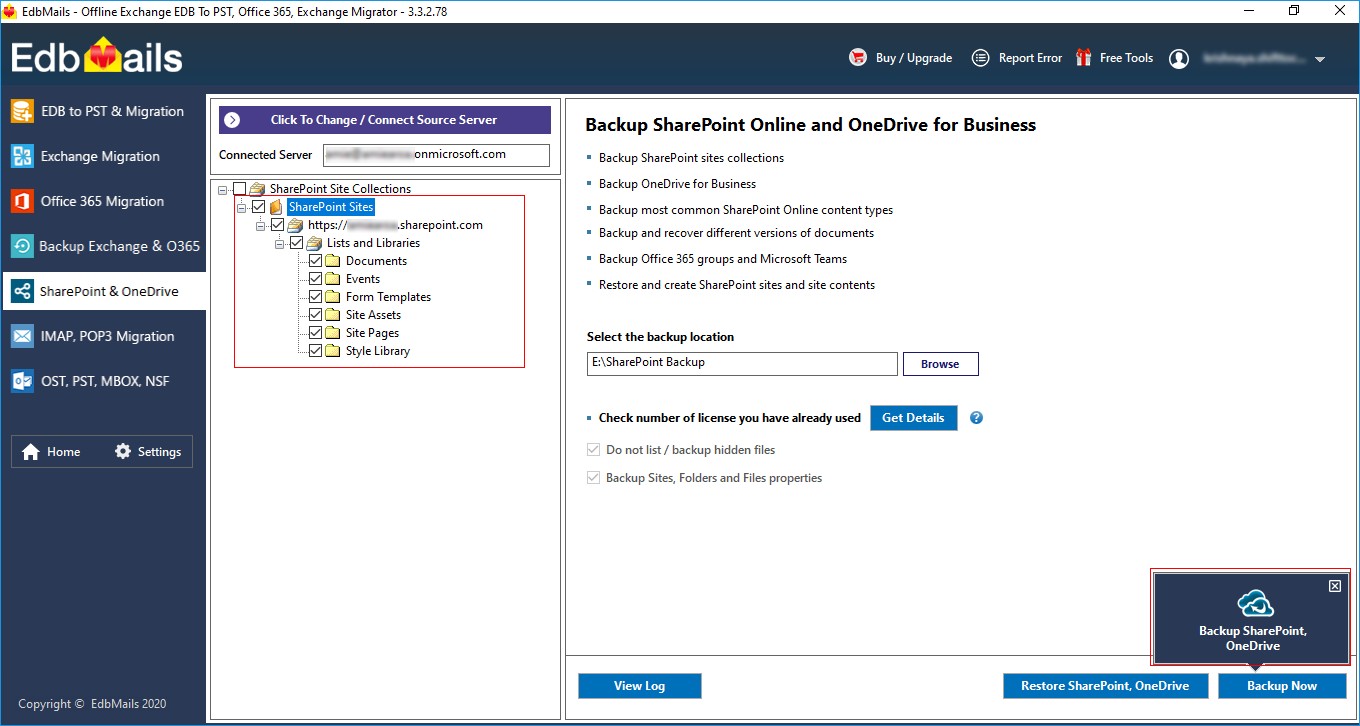 Step 5: Select backup location where you want to store the backup data and ensure you have enough free disk space to store the backup files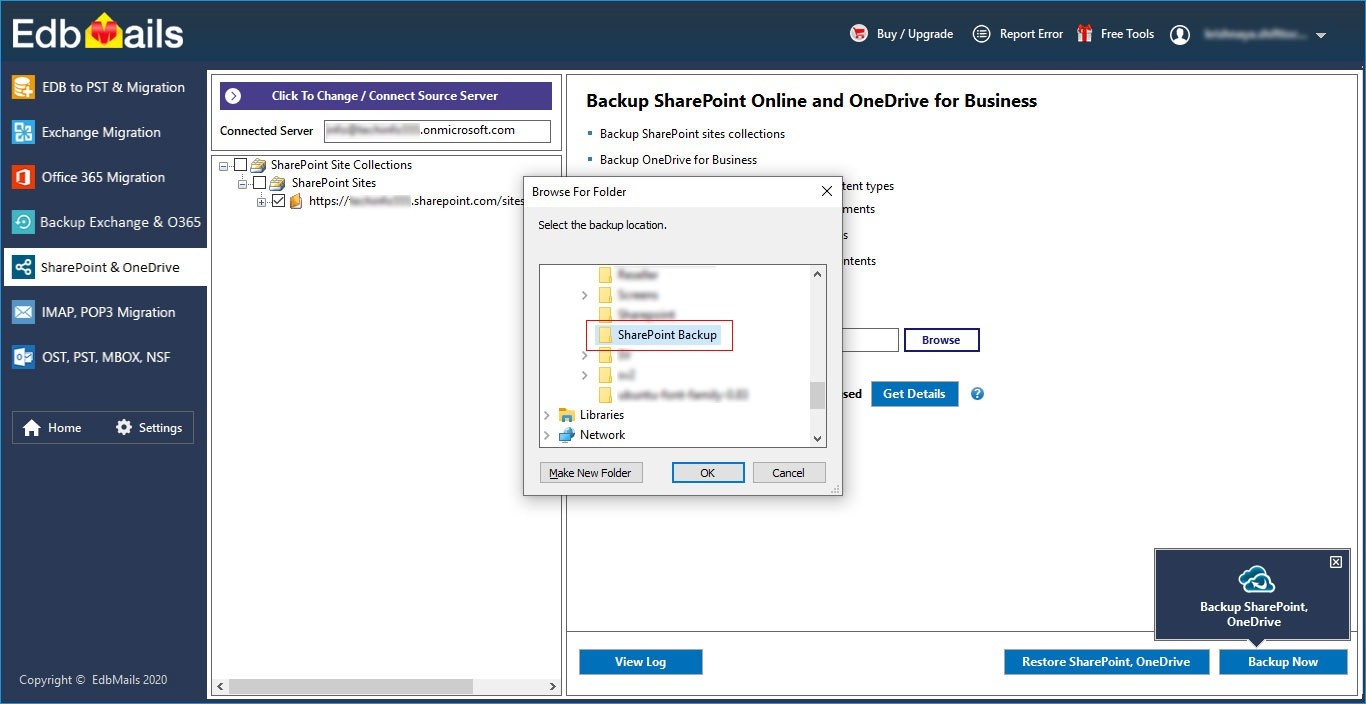 Step 6: Set the Action as 'Backup' and click the 'Continue' button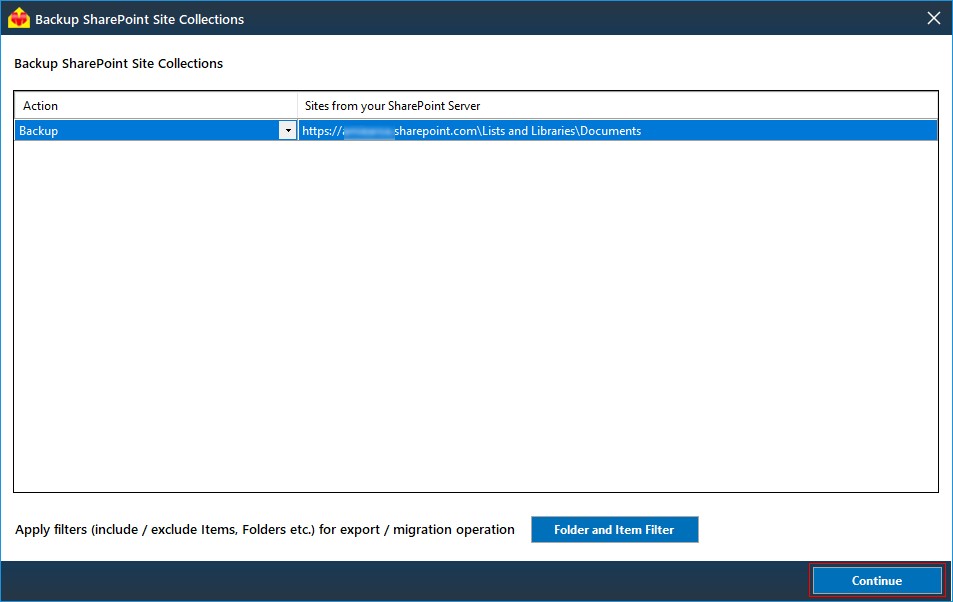 Appropriate message will be displayed on completion of the backup operation. Meanwhile, you can see the status of the same.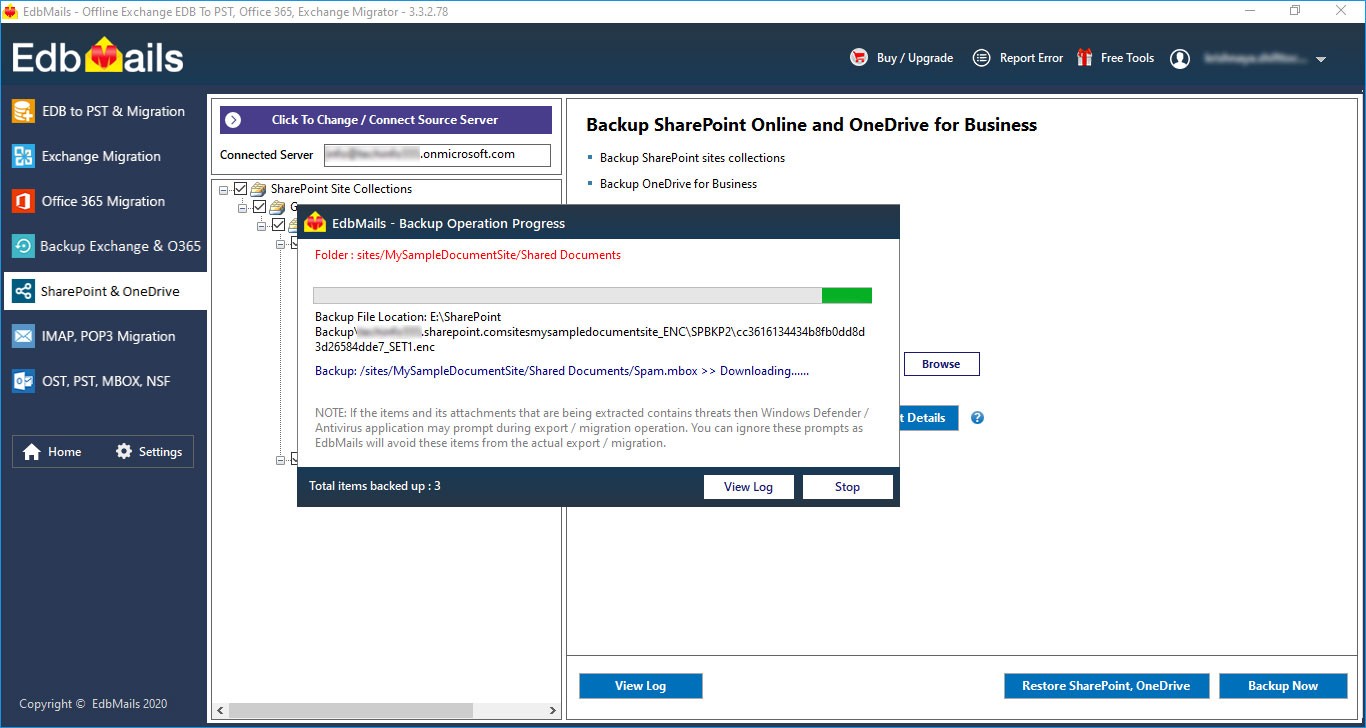 Click the 'View Log' button to view the complete backup operation log.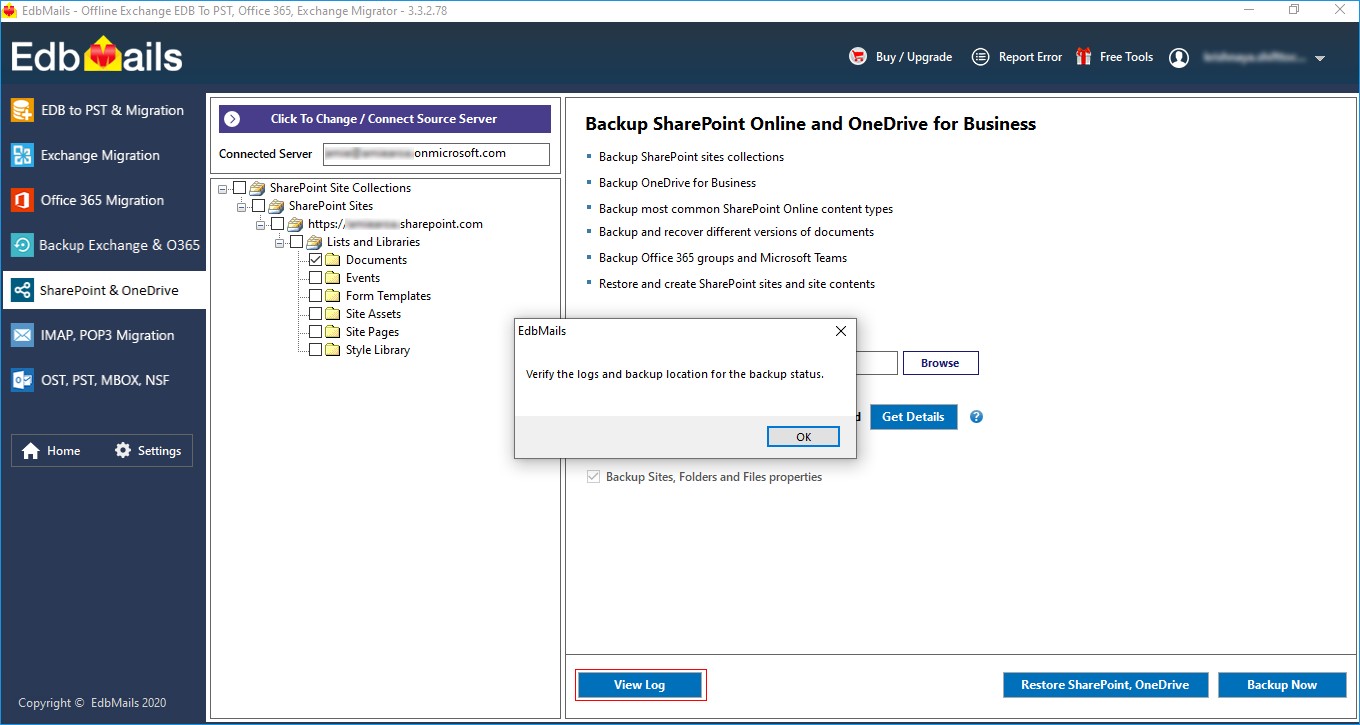 How to restore the Sharepoint and Onedrive backup data?
After backing up all data, you can perform restore operation using EdbMails
1) There will be an option "Restore SharePoint, OneDrive" at the bottom. Click on that.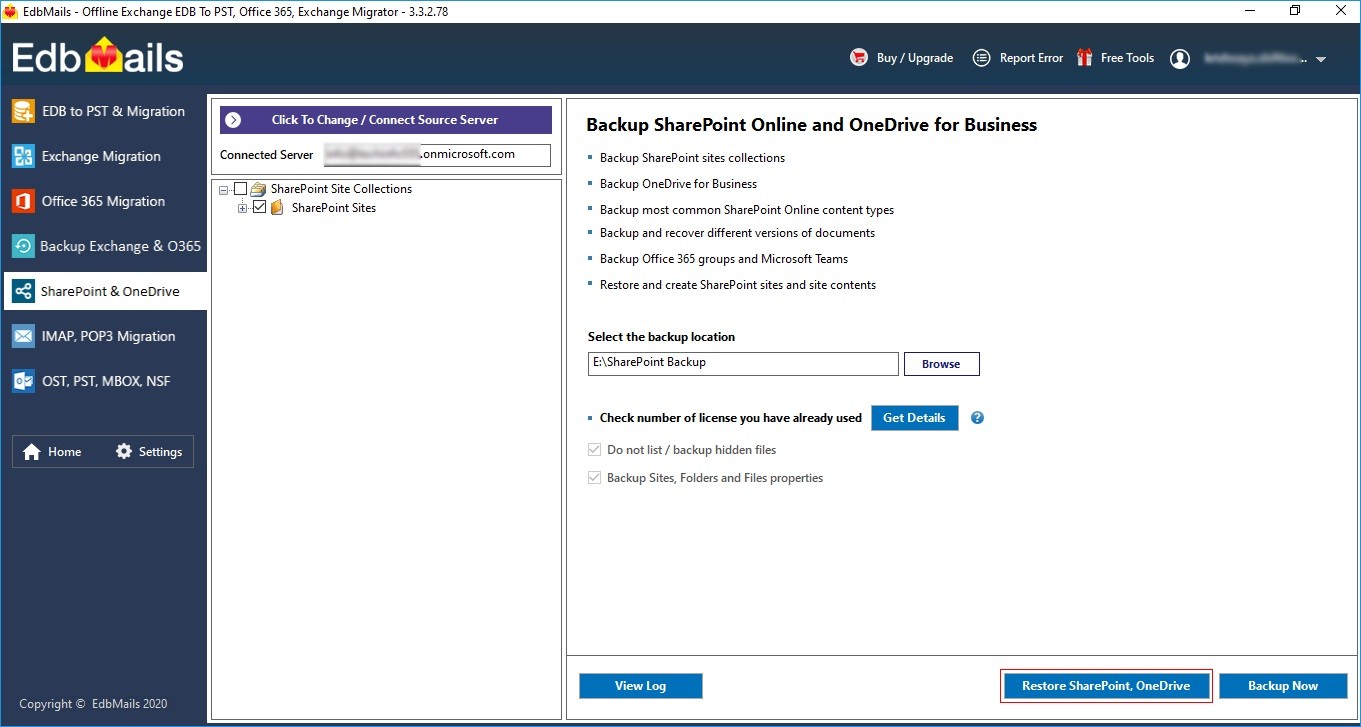 2) All the backups done using EdbMails are secure with AES 256-bit military-grade encryption to ensure maximum security. This minimizes the risk of unauthorized access to your backed up data. Now you have to browse for the encrypted file on your PC. It usually ends with .enc (encrypted) file format.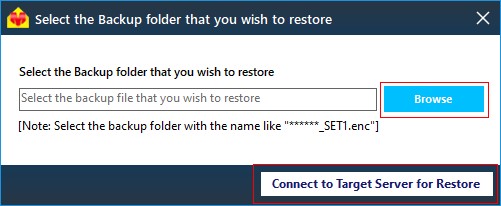 3) Then connect to Office 365 target server to restore by providing the appropriate company site URL and credentials. Click on 'Login' button.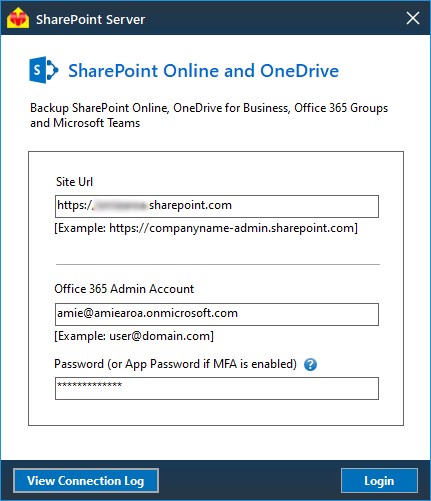 4) Select the site to which you wish to restore and then click the continue button to start the restore operation.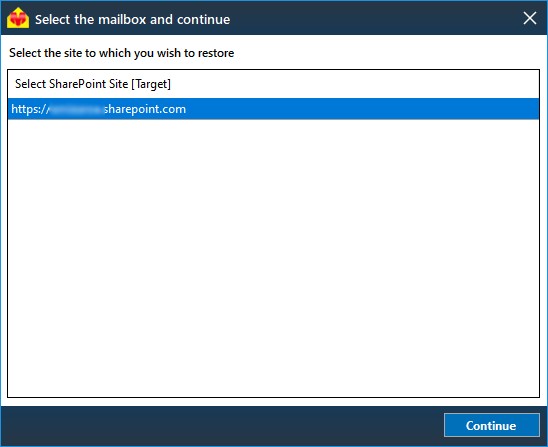 4) You can view the progress of the restore operation and finally view the Log file when the operation is completed.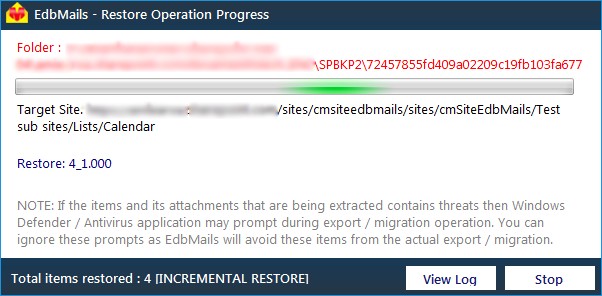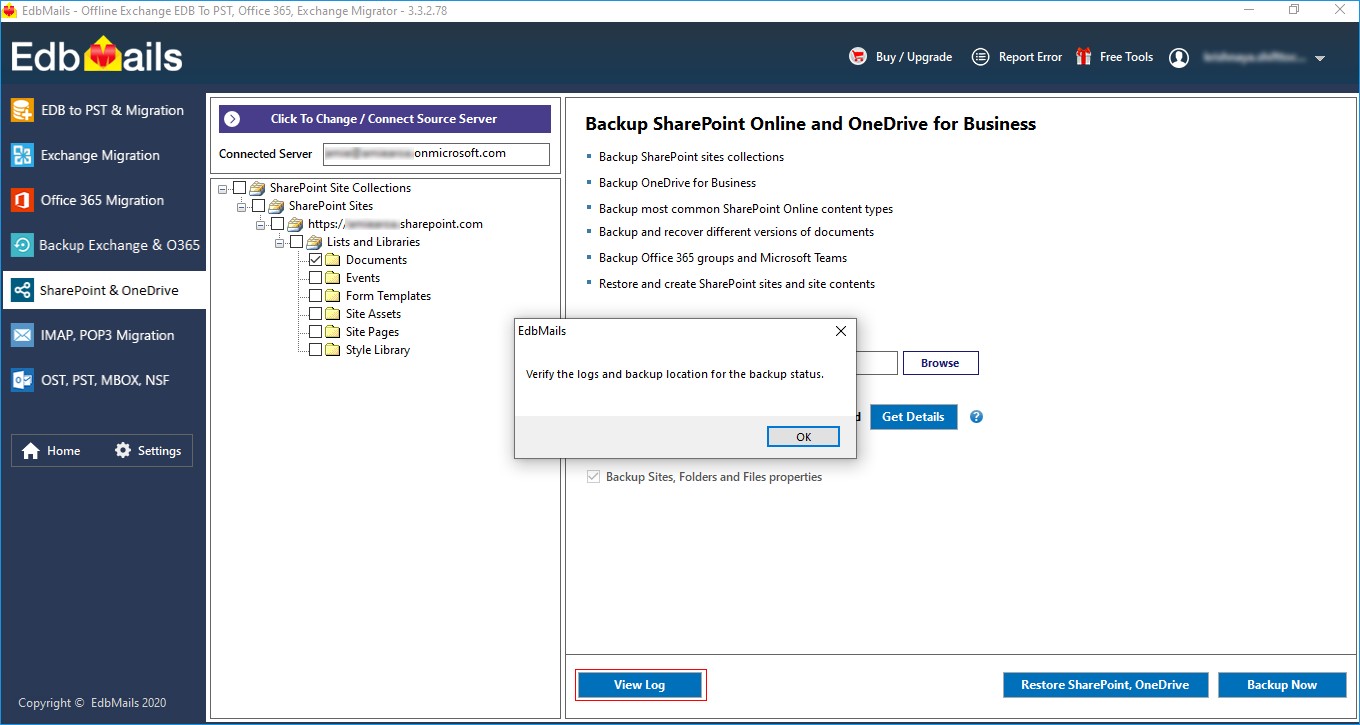 Conclusion
After discussing the importance of backup and restore practices in SharePoint Online and OneDrive for business, we recommend using a professional solution to have an easy and quick backup/restore of Office 365 data. We suggest you the most suitable tool – the EdbMails SharePoint Online and OneDrive for business backup tool to backup and restore the data. Data security is maintained in this tool by using OAuth Authentication coupled with TLS. User credentials are neither stored anywhere nor a third party server is involved. You can try the tool for free with the trial version to migrate sample data and play around with all the functions and features. Visit EdbMails for more information.
Video: https://www.edbmails.com/pages/sharepoint-online-backup-video.html
User Guide: https://www.edbmails.com/pages/sharepoint-online-backup-guide.html