SharePoint is one of the best collaborative platforms where you can store your data, share and create new sites. With this service, you can manage business data/information from any device and any location. SharePoint Online and SharePoint On-Premises are the two different collaborative services. The employees of an organization can access the data from SharePoint to perform relevant tasks or to keep themselves updated with the latest info.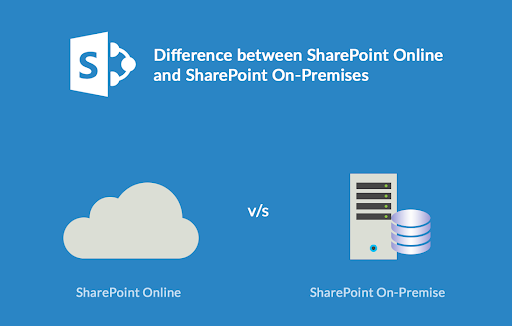 Both SharePoint Online and SharePoint On-Premise have advantages and limitations. SharePoint On-Premise requires hardware and more people to maintain the service. But with SharePoint Online, there is no need of heavy internal resources and additional hardware resources. In this article, we shall look at the differences between SharePoint online and SharePoint On-Premises.
SharePoint Online
SharePoint Online is a useful web-based application that is mainly used for collaboration and to exchange data across the organization. We have briefly outlined what SharePoint is, in a previous blog post. It is a cloud based version of SharePoint and allows you to perform data management, store the data, and share those data with other users. Data is organized in a centralized format. Here, all the updates are handled automatically by Microsoft based on the subscription plan without any manual intervention.
SharePoint On-Premise
Now, every Office 365 user does not want to access their data off their local servers somewhere in the cloud. Reasons for that can be plenty ranging from control over the data, privacy issues to company's confidential information. In SharePoint On-Premise, the deployment model follows a server-based form. Data is locally stored on your server and depends on the internal IT team. Also, the security of the data completely relies on the internal capabilities of the IT team, who handle all the patches and frequent updates of the application.
To put it in a nutshell, the on-premises solution lies in the hands of your internal capabilities, but it gives you direct control over your information and compliance standards, as opposed to information being held up by industry-specific security standards or being verified by third parties.
Benefits of SharePoint Online compared to On-Premises
Better value for money

SharePoint On-Premise requires greater IT budgets but SharePoint Online saves money and time for valuable tasks. Since SharePoint online comes bundled with other Office 365 apps, there are no separate maintenance charges.

Collaboration platform

SharePoint Online has a user-friendly interface which can be accessed through a computer and also on mobile phones. To say it in one word, it is portable!

Provides advanced features

There are many features in SharePoint Online like data storage, file sharing, and also it supports power apps. SharePoint and OneDrive are also closely knit with one another

No need to manually upgrade SharePoint online

SharePoint Online upgrades are regularly done by Microsoft itself. There is no need for any manual involvement in these activities. Also the updates are barely noticeable and does not cause any down-times. On the other hand with an On-Premise solution, security patches need to be applied by the IT Team on specific dates which makes the entire system highly vulnerable.

Accessibility of data is easier

SharePoint Online makes it much easier to provide data access to external users. You can share SharePoint data with other users if they have a Microsoft account connected to their business email address.

Backup issues

With SharePoint online, your data is safe in the cloud. Although data can be compromised online, Microsoft has a branded reputation and maintains international standards with ISO compliance when it comes to security. With SharePoint On-Premises, you have to do the hard work of backing up of all your data manually which is both time-consuming and cumbersome.

Know about SharePoint Online migration using EdbMails

EdbMails SharePoint Online migration tool is the intuitive software that is used to move your data from one SharePoint to another SharePoint, OneDrive, or Microsoft Teams site. You can migrate SharePoint site documents including SharePoint sites, Communication sites, Team Sites, Libraries, Lists, Folders, Files, OneNote Notebook, etc to the target site. It is a cost-effective migration solution.

Some of the important features of the EdbMails SharePoint migration tool are:

This software supports incremental migration feature which ensures that the target server does not contain duplicate items while migrating SharePoint data from the same system to the same target.
Allows you to move SharePoint site data of any size to the target server. There is no restriction on the size of the data.
Provides 100% safety while migrating data from source to destination.
During migration, the EdbMails SharePoint migration tool maintains the original folder hierarchy on the target server.
Provides detailed migration report in the form of a 'Log File' after completion of the migration process.

Additionally, with EdbMails, you can backup your SharePoint data easily and securely. After backing up your data, you can restore those SharePoint site data whenever you want.

To know more about SharePoint online migration and backup using the EdbMails application, please visit the following links.

To perform SharePoint Online Migration: https://www.edbmails.com/pages/sharepoint-migration.html

To perform SharePoint backup: https://www.edbmails.com/pages/sharepoint-online-backup.html