The outlook is a hugely popular mail management service bundled with Microsoft office suite. Although often overlooked, as it is primarily used for mail management, outlook also supports – calendar Appointments, task manager, contact manager, note taking, journal, and web browsing. It can be used as a standalone application or for several users in an organization where Microsoft Exchange server is deployed. The first version of Outlook was known as 'Outlook for MS-DOS' and came bundled with Exchange Server 5.5, its latest iteration is 'Outlook 2016' released in September 2015.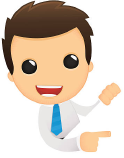 Quick Solution
EdbMails for OST to PST Converter
is a free tool to convert orphand OST Files to PST. Also you can perform OST file migration to Live Exchange or to Office 365.

Outlook data files
Adding an email id to Outlook is a simple and straightforward process but when you do so, Outlook creates an offline copy of your previously synchronized data such as emails, calendar entries, tasks, reminders, journals etc and stores them in Outlook Data files so as to make them accessible without internet. There are two types of Outlook data files one Personal Storage Table (.PST) and other is Offline Storage table (.OST). Now let's have a look at what constitutes these files.
PST :
The PST files are used for POP and IMAP accounts only and contain mails and other associated items stored on the computer. As these are stored locally on the computer, mailbox size limits set on the exchange server don't apply, they can hence be used to free up space on mailbox.It also comes handy to backup email, contacts, calendar etc by exporting them Outlook .pst. They can be moved from one computer to another.
OST:
The OST file acts as a local copy of exchange mailbox. It consists of emails, contacts, calendar entries and tasks etc. It synchronizes with the server whenever there is internet connection and allows you work even when you are not connected to the internet. You can read synced mails and compose new ones, create tasks, and add contacts etc offline, however, the changes you've made won't take effect or new mails composed get sent until internet connection is restored.
To check the location of Outlook data file, open File tab in Outlook and goto Account Settings > Account Settings… > Data files tab > Click on the desired Outlook data file > Select 'Open File Location…'
Limitations of OST files
Some of the drawbacks of OST files are as follows:
The OST files have certain limitations like cannot be copied/moved to another computer and accessed with standalone outlook as it can only be opened from the original Outlook profile that created it.
Even if you create a new outlook profile with same email id a new ost file will be created for it as there is no way to specify a pre existing ost file for the new profile.
Starting from exchange server 2013 a single .ost file stores all IMAP data and consequently the contents of "This computer only" folders like calendar and contacts, as the name suggests, are stored locally and doesn't get synced with the servers like in case of emails.
OST Recovery
The OST files are as vulnerable to corruption as any other database store; the causes may range from individual negligence to hardware issues to problems in syncing with server. Whatever the cause, OST corruption puts the data contained within it, especially the ones that have not been synced with exchange server at great risk. You can try OST recovery with scanost,exe tool provided by Microsoft themselves but if your exchange version doesn't support the tool or you are not a fan of unintuitive prompts and slow exports, then you might want to check out the EdbMails.
EdbMails OST recovery tool comes in as savior when it is OST recovery that is in need of the hour. It uses deep scanning to recover all data from corrupted OST file. It supports ultra fast export of mails from OST file. EdbMails also has an extensive range of 'include/exclude' filtering options to let you choose exactly what you want to export. EdbMails is capable of working seamlessly with most versions of Microsoft exchange and allows you to effortlessly export OST to PST. You can view all the OST contents by simply opening them in EdbMails application. You can even convert OST to PST converter and backup regularly with EdbMails.
To wrap it up, OST files are used by Exchange servers to let people work offline and later sync their work progress when connection is restored. They have their limitations like not being able to be moved from one computer to another, cannot be opened directly even if you have a copy of ost file as local backup etc. This is why chances of data loss in case of some sort of corruption become high and it therefore becomes imperative to have a reliable recovery solution such as EdbMails. Coupled with an easy to understand user interface and direct migration to Office 365 and Live exchange server, EdbMails is the one stop solution for all your Outlook OST recovery needs.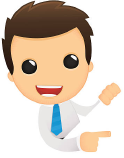 Quick Solution
EdbMails for OST to PST Converter
is a free tool to convert orphand OST Files to PST. Also you can perform OST file migration to Live Exchange or to Office 365.

Repair and recover Procedure of corrupt OST file
1. Download and install EdbMails OST Recovery application.
https://www.edbmails.com/pages/download.html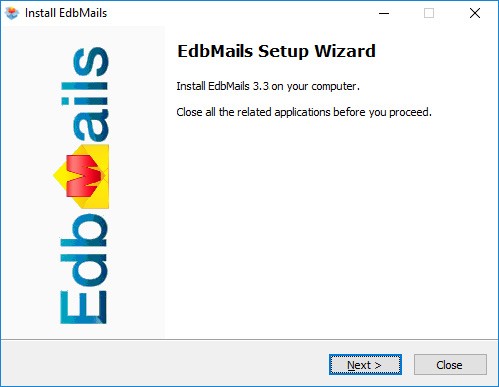 2. Click the "Start Your Free Trial" button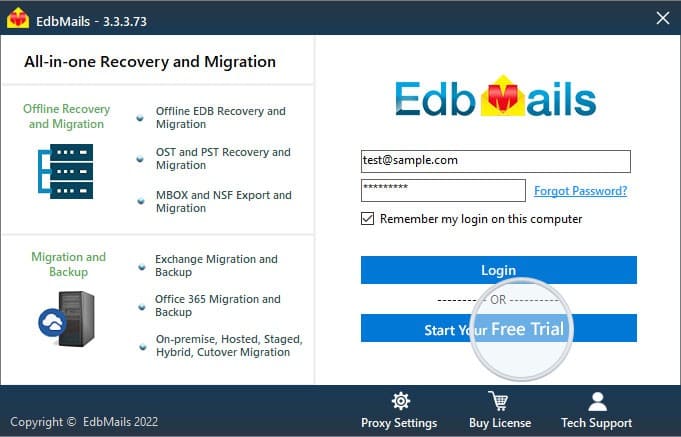 3. Selecting OST file to Convert OST to PST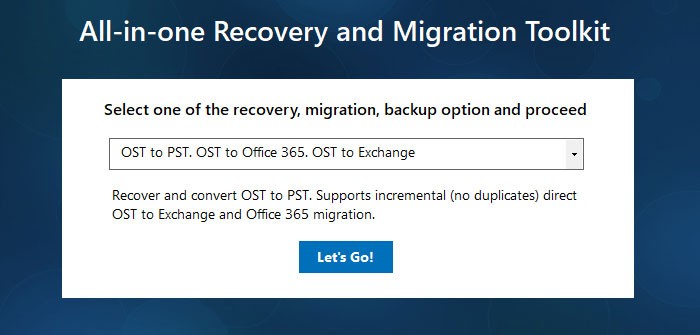 Click the "Browse" button to navigate to where the OST is located.
Now click the "Continue" button to start the recovery operation.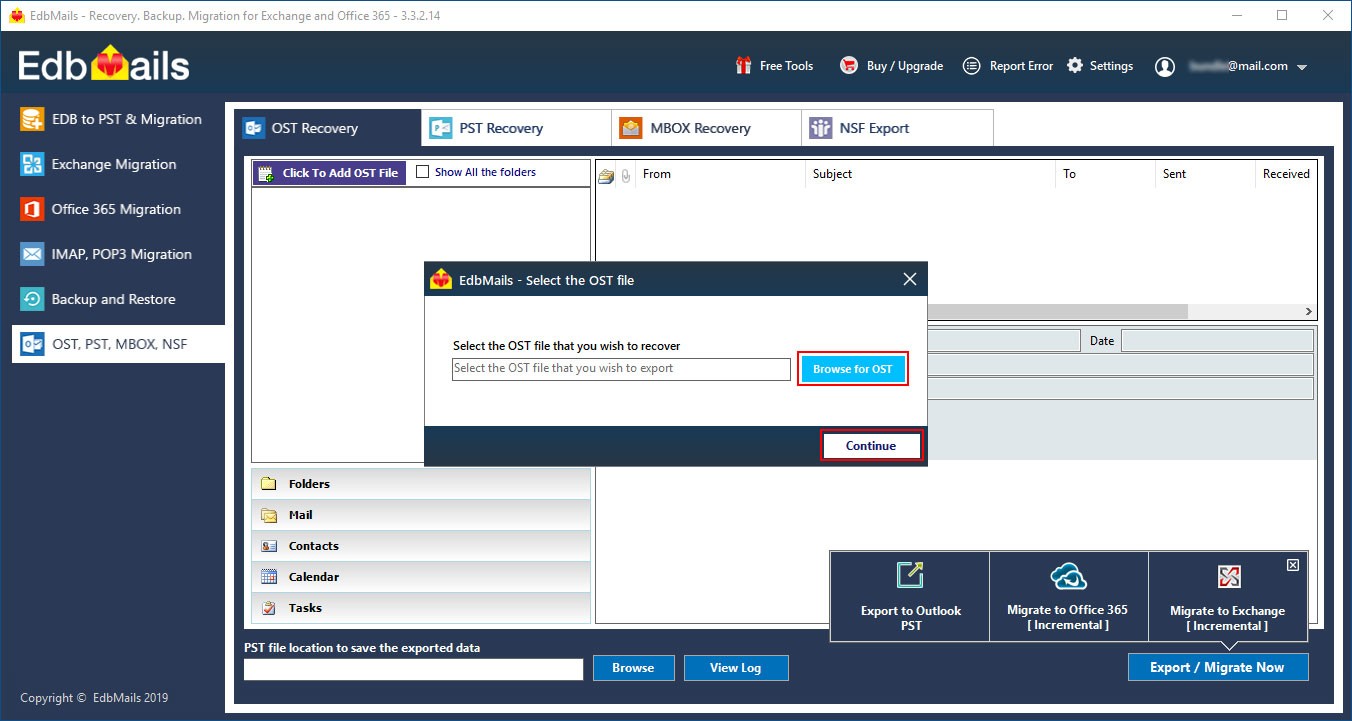 4. Convert OST to PST, Office 365, Live Exchange file
a. Select the location to store the exported PST file by clicking the "Browse" button.
b. Right click the Tree view and select the Mailbox / folder that you wish to export to a PST file. Choose the "Export Selected Mailboxes / Folders to PST / Office 365 / Live Exchange" popup menu item to continue with the export operation.
c. Click the "Export Selected Mailboxes / Folders to PST file" option to continue.
d. Choose the needed mailboxes and click on "Export OST to PST" as shown below
e. During export operation, the progress will be displayed as shown in the below screenshot.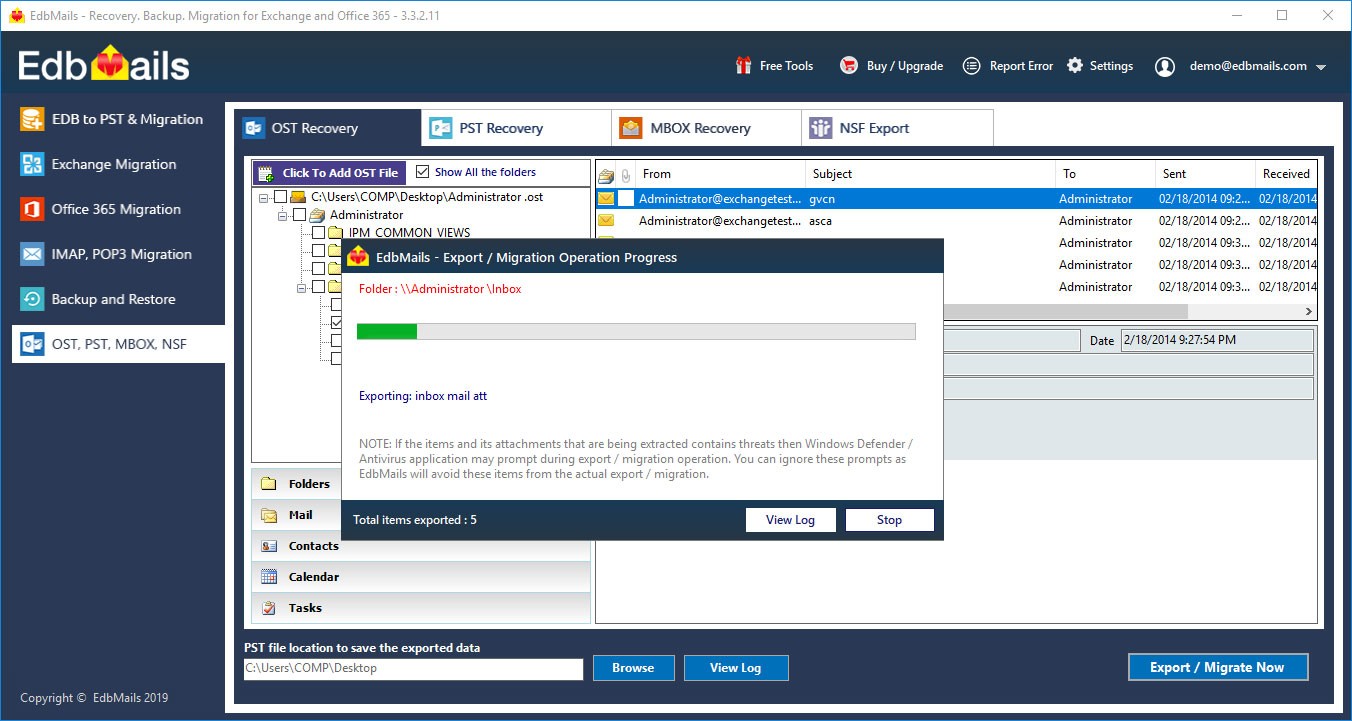 f. Once the Export operation is completed, the message "Export operation has been completed." will be prompted. You can now, open the exported PST file using Microsoft Outlook and verify the emails, Calendars, Contacts etc., items accordingly.
Note: To Convert OST to PST you need to install MS Outlook. Outlook installation is not required if you want to Migrate OST to Office 365 or OST to Live Exchange server.