After migrating data to cloud-based storage applications, you may ask why there is a need for backing up data if it is already available online?. Data backup is important when there is data corruption, malicious attack, or any accidental data deletion that occurs on the primary data. Also, the data available in the cloud can be compromised in minutes or accessed by professional hackers. If this happens, the entire organization can come to a freezing standstill or might result in usually long downtimes risking both business and losing out potentially important customers. Keeping this in mind let us look at some general tips to ensure the safety of your email data.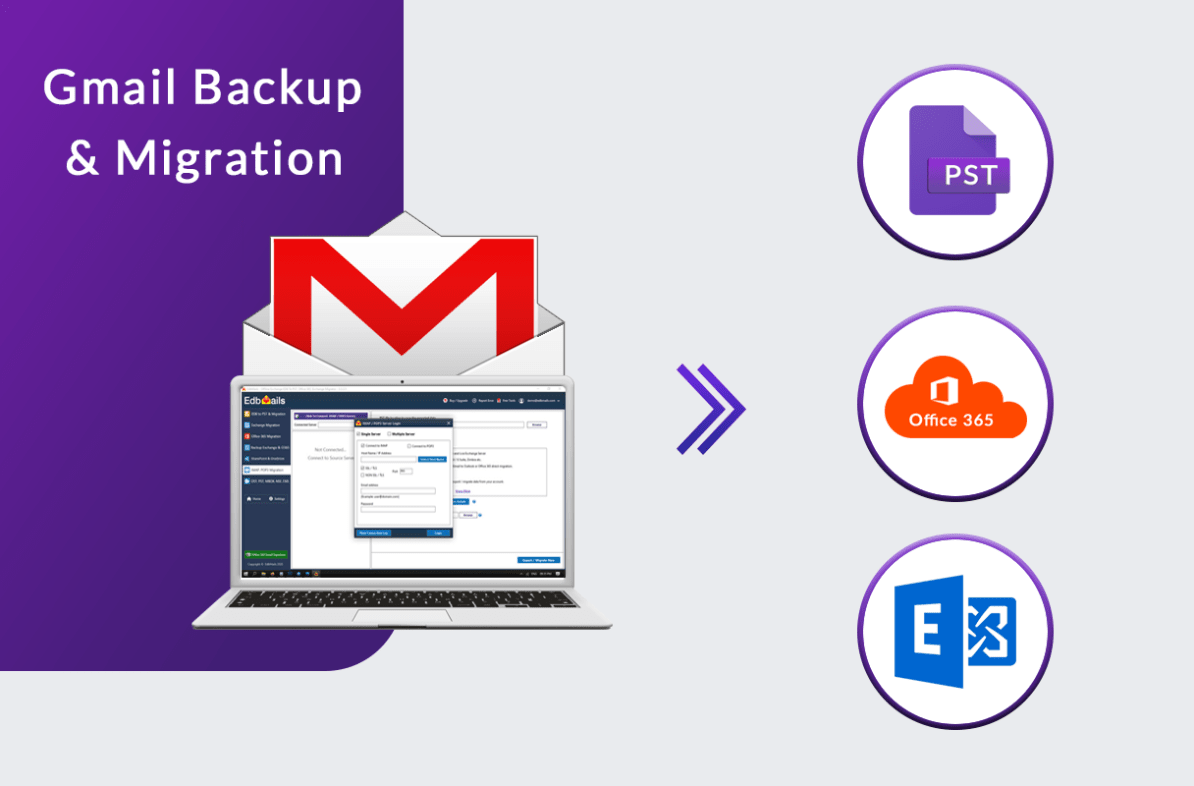 Here are some of the best mail backup practices to follow
Know what data to retain and what to get rid of. This is one essential aspect of performing backup. It is a waste of time and disk space to backup unwanted junk when you can delete them safely beforehand.
Maintain regular backups in the form of PST. PST data can easily be imported to Microsoft Outlook and convenient to store in a hard drive or on your company's network drive. Restoring from a PST is also pretty quick.
Test the backup regularly. It seems foolish to just backup the data and assume that everything proceeded well. Even after the backup operation is complete, it is a very prudent practice to restore the backed up data to a test account and verify for the consistency of data. If there are any errors in the backup itself, it can be rectified timely or executed once again.
Secure your backup files. Password protect your backup files and store them in a safe location. A company's data has valuable attachments, conversations and trade secrets. Practising safe and secure methods is therefore a high-priority task. A third party can easily read or export the backed up data to his mailbox if he gets his hands on it thereby making the entire scenario perilous.
Backup is not actually a backup if there aren't multiple copies. Let us consider this situation. You have backed up your data, celebrated last night with your co-workers but too procrastinative to keep a duplicate copy of the backup. The PC on which the backup was stored crashes overnight. Poof! goes all the hard-work and time you have invested in taking the backup. Yes! You heard it right. A backup copy must at least have another copy elsewhere, to function as a stand-by should something happen to the main backup!
Let us look at how EdbMails tool can assist us in putting all those dry theory to practice.
With EdbMails, you can easily perform both Gmail migration and Gmail backup securely. With migration, it supports automatic mapping and allows you to migrate your mailboxes. EdbMails backup tool allows users to export Gmail mailbox data as a PST file.
The migration operation supports the following scenarios
1. Gmail to Office 365 Migration
You can migrate Gmail mailboxes directly to Office 365 in one go. The application allows you to move your Gmail messages to the Office 365 account without encountering issues. To perform this, connect to the IMAP mailbox in EdbMails application and also connect to Office 365 server. You have to map the mailboxes to the respective Office 365 tenant and migrate. More info about this can be found here https://www.edbmails.com/pages/gmail-to-office-365-migration-guide.html.

2. Gmail to Live Exchange Migration
To perform Gmail to Live Exchange migration, you need to connect to the source Gmail server and also the destination Exchange server in EdbMails application. During the Migration, map the source Gmail mailboxes to the corresponding Exchange server mailbox to migrate the data directly to the Exchange server. More details about IMAP to Exchange migration can be found in this link https://www.edbmails.com/pages/imap-to-exchange-steps.html.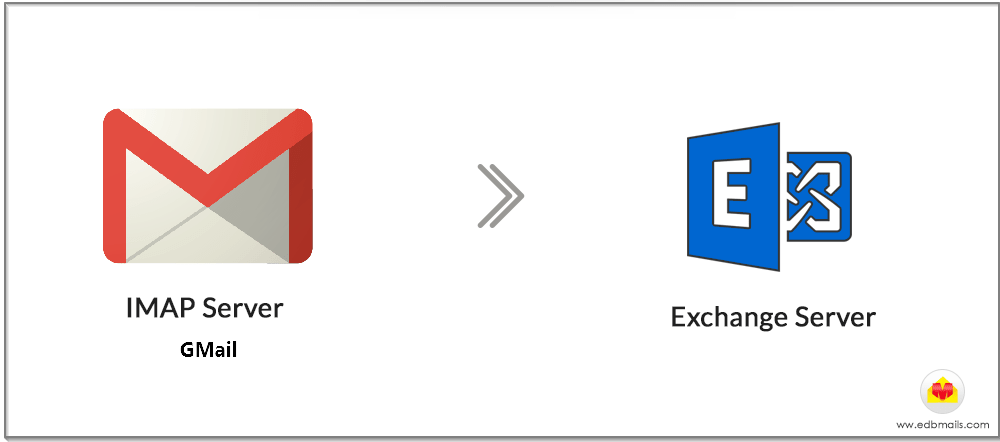 3. IMAP to IMAP migration (From one Gmail account to another account)
One can also migrate their mailboxes from one Gmail account to a host of IMAP enabled e-mail service providers. Here is a list of supported IMAP Email servers by EdbMails: Google mail – Gmail, Outlook.com, Office365.com, Yahoo Mail, Yahoo Mail Plus, Yahoo Mail UK, Yahoo Mail Deutschland, Yahoo Mail AU/NZ, AOL.com, AT&T, BT Connect, NTL @ntlworld.com, O2 Deutschland, T-Online Deutschland, 1&1 Deutschland, Verizon, Zoho Mail, Mail.com, GMX.com, Net@ddress by USA.NET and many more. IMAP to IMAP migration is illustrated in this link https://www.edbmails.com/pages/imap-to-imap-server-migration-steps.html.

EdbMails backup for IMAP supports the following scenario
1. Complete Gmail Backup
This can be achieved by exporting mailboxes to Outlook PST file. PST is a Personal storage table that is used to store copies of messages, calendar events, archived items, and other items. A pre-requisite for this is to have Microsoft Outlook installed on your computer. Then start backing up the mailboxes from Gmail. Back up the large size mailbox to small size PST files by setting the PST split size option during the Migration operation. Gmail to PST backup procedure is detailed in this link https://www.edbmails.com/pages/imap-to-pst-steps.html.

Some of the advantages and features of Gmail Backup / Gmail Migration
There is no data limitation

You can migrate mailboxes of any size from the source to the target server. There will be no restrictions on the size of the mailbox.

Maintains originality of source data

After migration operation, this application replicates the exact folder hierarchy as that of the source to target. It maintains unique meta-data for each mail and that will be recovered. You will get all the message headers for each mail as it is in the source.

No Outlook dependency for migration operation

Without installing Outlook application on your computer, you can migrate Gmail mailboxes to the target servers like Office 365 and Live Exchange Server. Exporting or backing up Gmail mailboxes to PST, requires that Outlook application be installed on the user's computer. There are no Outlook dependencies for the migration operation however.

Automatically maps mailboxes.

This application allows you to map the source Gmail mailbox automatically with the corresponding target mailbox. Also, you can manually map the source mailbox to the required destination mailbox.

Advance Email filter option

You can select and migrate only the required items to the target server. Users can download backups of selective emails by filtering them by subject name, email address, date, etc. Using this feature, it is possible to avoid certain folders and messages (such as Spam/Junk folders).

Provides 100% Safe and Secure Backup/Migration

Gmail Backup/Migration tool offers strong authentication. Data related to signatures are stored with encryption for additional protection. EdbMails ensures that all migration and backup processes are safe and secure. It ensures a reliable and risk-free migration.

No data loss during migration

While migrating a large number of mailboxes, there might be chances of data loss. But with this tool, you can migrate the entire data (including attachments, etc) without encountering loss of crucial data.
For more information please visit:
https://www.edbmails.com/pages/gmail-to-office-365-migration-guide.html
https://www.edbmails.com/pages/gmail-to-pst-office-365-and-exchange-migration.html