Zoho mail is an email service provider targeting professionals. It is integrated with other Zoho applications and also other popular external apps. Users can organize their emails, can identify key messages, contacts and send standard replies. It also provides adequate storage, IMAP and POP access.
Zoho Mail provides a collaboration platform where you can communicate with people from the same organization. There is a filter option to send replies to certain emails. It provides both desktop-based clients as well as a cloud email server.
As Zoho is a new product in the market it has limited features in the application. Trying to merely copy Zoho files to Office 365 will unfortunately not work. To move all data to the Office 365 account, you need a proper migration tool.
Reasons to migrate Zoho mail data to Office 365: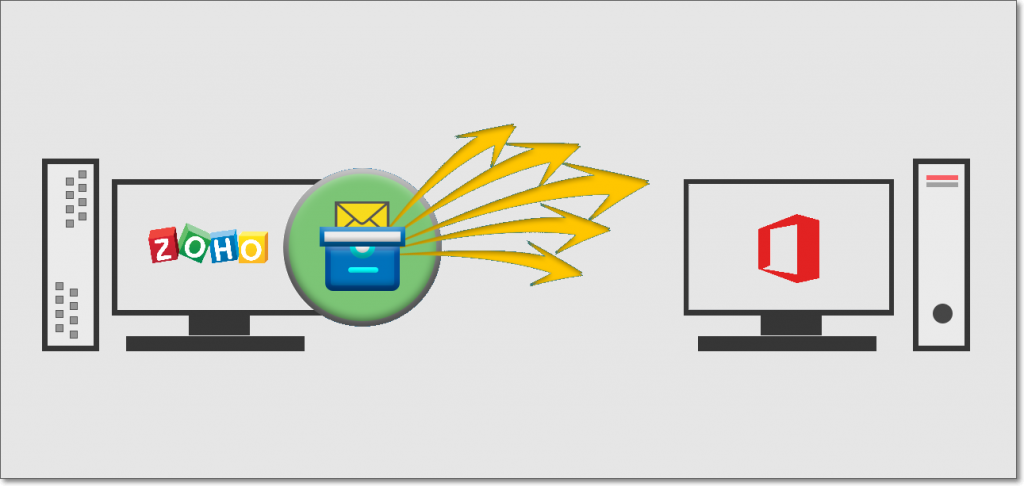 Difficult to handle large files

A large organization will have a huge amount of emails and other data items. Zoho system cannot process large amounts of data quickly. But with Office 365 you can handle any operations with a huge amount of data as it supports better storage options suited for business needs.

Zoho book problems

Zoho Books are online accounting software. With this application, you can record and monitor your bank accounts and transactions, and collaborate with your accountant in real-time. Zoho books are used to solve business accounting challenges, its unique features like GST calculation has attracted many clients but if this application doesn't get integrated with mail then it is of no use. Office 365 provides the integration of its application with all its entities.

Poor management of the data

The event organizing management and contact management is not good as compared to Office 365. To check the schedule, the calendar data never gets attached or sync with emails. This is the main drawback of Zoho mail. So, it becomes very important factor to move data from Zoho to Office 365 account.

Microsoft Applications

Users who are heavily accustomed to Microsoft Office and Outlook find it hard to shift to other services. It is like teaching an old dog new tricks. With Office 365, these applications get integrated into the Microsoft account fairly well. Sharing files from desktop to web and vice versa happens as smooth as possible. This is another reason why users might consider migrating from Zoho to Office 365.
In comparison to Zoho Mail, Office, 365 is a complete suite of cloud-based productivity and collaboration platform. It provides web, desktop, and mobile apps for Outlook, Word, Excel, PowerPoint, OneNote, Publisher, Skype, OneDrive, Teams, Exchange Online, SharePoint, and many more. Office 365 is more flexible when compared to Zoho mail. Having access to productivity tools enables a user to perform tasks very easily. Office 365 data can be accessed from anywhere.
What are the benefits you'll get from Office 365
Access files from anywhere

In Office 365, all files related to the organization are stored in the cloud. So they can access the files from any device, from any place with an internet connection. It is possible to access the applications of Office 365 via desktop and also through mobile phones. The members of the organization can access the data on their devices without any extra licenses apart from the main subscription. Admins can easily add and remove users and perform a host of other tasks.

Secured cloud storage

Office 365 has robust security measures like two-factor authentication, one-time password, etc to protect data on the cloud. The two-factor authentication ensures that unauthorized people can't access your files if they happen to get on your device. So, you can store data on the cloud without any fear of data loss. OneDrive also comes integrated into your Office 365 account for file storage which ensures business continuity.

Improved communication

Office 365 helps people to communicate with other users through Skype, Outlook and other applications. Skype and Microsoft Teams are used to make meetings and conference calls with staff and external clients. You can communicate and collaborate with your team regardless of distance. Yammer is another feature of Office 365 that acts as a kind of social network for your organization. Anyone can comment on a post, and you can create different 'channels' in Yammer for different purposes, so you don't always have to post to the entire company.

Centralized collaboration

To accomplish success in every work, there should be collaboration. Office 365 has built-in collaboration tools and this suite has many features that allow employees and teams to work together on the same projects. Let's consider a Microsoft Teams application, it allows users to communicate with each other, sharing files, instant messaging, and many more features to simplify the business communications. With this application, you can schedule meetings to discuss a project. Users can edit files and and share it on-the-fly.

Another useful tool is SharePoint. In this application, you can share files, meeting notes, projects with your colleagues and other users. You can access files that are stored on SharePoint from any device and from anywhere. Office 365 allows you to share mailboxes, calendars, contacts, and documents through collaborative tools.

Supports automatic upgrades

You need not worry about upgrades of the software as they are performed automatically at predetermined intervals. These updates are included in the subscription plan of your Office 365 licenses. Microsoft releases regular security patches which are applied without hampering the existing processes. All the essential apps such as Word, Excel, PowerPoint, and Outlook are included and also work online.

Useful integrated applications

Office 365 has a full suite of business applications that helps enterprises to perform tasks efficiently and achieve their goals. Normally, everyone knows about Microsoft applications like Word, PowerPoint, Excel, Outlook, Skype, and OneNote, etc. Office 365 has some other applications like Yammer, Whiteboard, Planner, Forms etc.

Flexibility

Office 365 has a customized plan so it works so well for many different enterprises. You can choose a subscription plan license based on your requirements. For maximum flexibility, purchase your licenses through a Cloud Service Provider (CSP) who can help you manage your Office 356 subscription. This is the best way to meet all of your enterprise's requirements.

Security

Office 365 has security features to protect the data of users. As data is always available on the cloud, it requires more security measures and continuous compliance. Cloud is more secure than the server on your hard drive.

Some of the security features are
Encryption

Message encryption allows you to send an encrypted message that can be opened by the recipient. This is one of the ways to protect your data.

Advanced threat analytics

It can identify suspicious activities so that you can avoid data loss and protect your organization.

Data loss prevention

This helps to prevent the loss of sensitive data like credit card details, passport information, or some security numbers.

Mobile device management

It allows you to manage Office 365 applications on employee's mobile phones.
EdbMails helps you to migrate Zoho mail data to the Office 365 account
If you feel migrating your Zoho Mail data to Office 365 is a cumbersome process, worry not!. EdbMails is an intuitive tool that migrates all your data from the Zoho Mail account to Office 365 account. There are no intermediate third-party tools for migration. With this tool, you can even backup your Zoho mail data if that is what your concern is.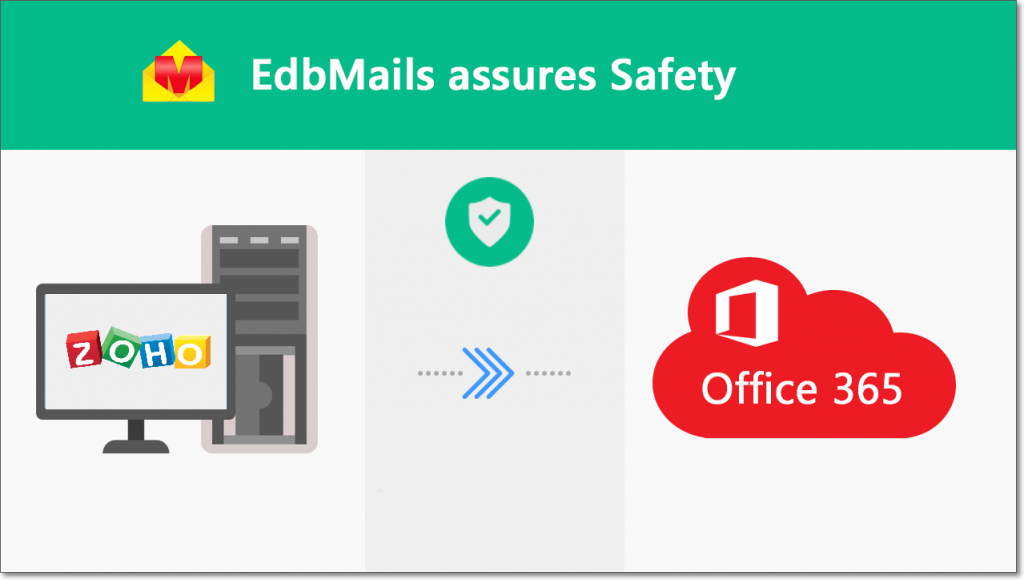 EdbMails has some noteworthy features like incremental migration, automatic mapping of source and target server mailboxes, retaining source folder hierarchy on the target server, selective items migration and many more.
For more information please visit : https://www.edbmails.com/pages/imap-migration-tool.html
To know about different features of EdbMails, visit : https://www.edbmails.com/pages/features.html