Most of the business organizations prefer to move to cloud as they will get lot of benefits. Migration to cloud is the latest business trend now a days. Cloud is the safest zone as it provides series of advantages to the organizations.
Some of the reasons to migrate Exchange server to cloud are:
High reliability:
Migrating from exchange to cloud, nothing but email can be accessible without any interruptions. No need to maintain on-premises hardware. All cloud vendors are in competition to provide more uptime. Need to select well practiced cloud partner for the better productivity.
High Security:
The small and medium sized businesses are having access to enterprise level security with Microsoft Office 365. Microsoft invests billions on infrastructure of its datacenter and geo redundancy of its operations and makes sure to meet compliance standards like HIPAA, EU Safe Harbor and ISO 27001.
Cost Reduction:
The capital expenditures on servers, operational costs are less. There by reduces overall reduction in cost.
Flexibility:
Organizations will experience a greater price flexibility with the office 365 subscription plans.
Also flexible in selection of various plans.
Scalability:
No need to spend much for future. You can add or reduce the number of licenses as per the demand.
Standard backup and disaster Recovery:
Microsoft guarantees to your continuous business flow in case of the disasters such as floods, fires, etc. Microsoft provides the provision for admins to modify the retention for deleted items in Office 365.
Up to date:
You can have the quick updates for the latest changes, techniques. No need to wait for a long period, so that users can get updates quickly which will improve productivity.
EdbMails Exchange Migration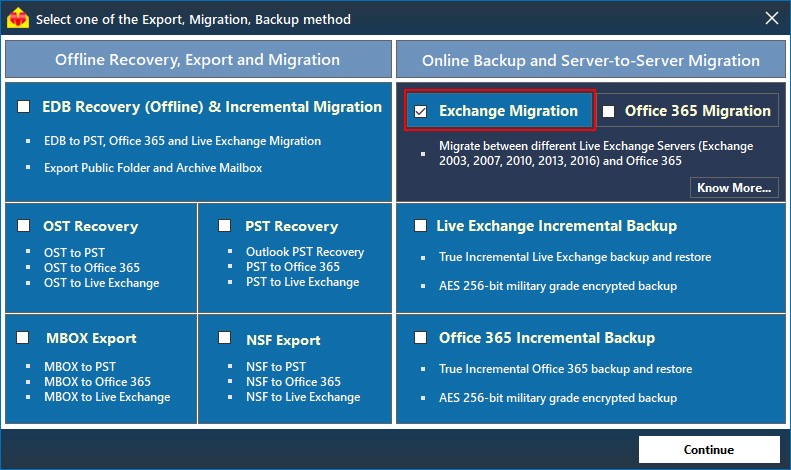 EdbMails Exchange Migration tool is the best solution which migrates the mailboxes from Exchange server to cloud. You can migrate mailboxes of any size. You can avail the true incremental feature on successive migration on the same system, thereby say good bye to duplicate items. It supports the Exchange server 2007, 2010, 2013, 2016 and 2019 versions. It is one of the best tools for Exchange Migration to Office 365.
Some of the important features of the tool include:
Intuitive GUI
True incremental migration
Migrate mailboxes of any size
Display of mailbox folders items count
Exclude folder option
Automatic mapping
Granular migration
Public folder migration
Archive mailboxes migration
Shared mailboxes migration
Display of detailed log reports
Cost effective
Subscribe to EdbMails and migrate your mailboxes from exchange server to cloud flawlessly.
For More details Visit: https://www.edbmails.com/pages/exchange-migration.html